Prayer
"Call upon Me in the day of trouble [and] I will deliver you." –Psalm 50:15
Prayer is a central value at Exodus Cry. We believe it to be our greatest and most effective weapon in combating modern-day slavery. This value keeps us connected to God's burden for the issue and directs all of our activity.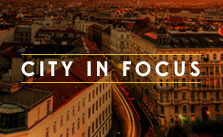 CITY IN FOCUS
Every month we highlight a specific city for prayer where slavery and human trafficking persist. Our goal is to summon an army of intercessors to join with us each month in praying for a breakthrough in these crisis regions. Join us every Monday evening live at 8pm CST, as we pray for our City In Focus.
City in Focus »
---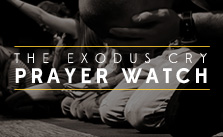 EXODUS CRY PRAYER WATCH
The Exodus Cry Prayer Watch is a global coalition of prayer meetings for the ending of human trafficking. Believing that unified prayer brings about the greatest impact, we issue a monthly prayer bulletin that identifies specific targets for intercession. Add an existing prayer meeting to the Exodus Cry Prayer Watch, or join by pioneering a new one. Exodus Cry Prayer Watch ».
---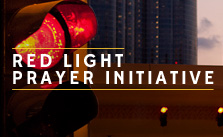 RED-LIGHT PRAYER INITIATIVE
Exodus Cry has created the Red-Light Prayer Initiative in an effort to see red-light districts across the world shut down. We're challenging you to pray for the shutting down of red-light districts every time you're stopped at a red light. Red-Light Prayer Initiative ».