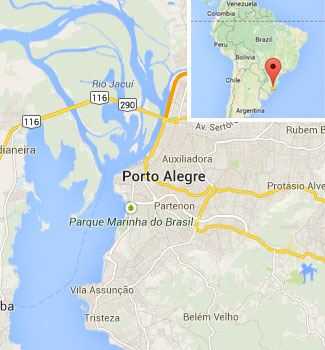 Porto Alegre is the capital and largest city in the Brazilian state of Rio Grande do Sul. Since its foundation in 1772, Porto Alegre has been a national hub for culture, politics, and the economy.1 The city is located on the eastern bank of the Rio Guaiba where five large rivers meet to form the Lagao dos Patos, one of the largest lagoons in the world. Throughout the years, Porto Alegre has served as an important exporter of local produce, leather, and beef to the rest of Brazil and to countries as far away as Africa and Japan.2 In 2014, Porto Alegre will be one of 12 Brazilian cities to host the World Cup.
As Porto Alegre and the rest of the host cities prepare for the massive tourist influx as a result of the World Cup, we cannot help but think of the many children living on the streets of Porto Alegre. Large, international events, while boosting the tourist economy, inevitably catch the attention of traffickers and those seeking to purchase sex while away from home.3 Children in cities such as Porto Alegre are particularly at risk. Reports indicate that Brazil is surpassing Thailand as the most popular destination for child sex trafficking.4 This fact, coupled with the coming of the World Cup, creates a bleak outlook for the many street children in Porto Alegre as well as the 11 other host cities.
In the sex industry, children are often lured into large cities with the promise of work and are subsequently forced into sex slavery. These children often come from rural areas and poor families. The hope of making enough money to support themselves and their families is too tantalizing to ignore. Unfortunately, hopes are shattered when these innocent children are forced into a life of oppression and darkness. Orphans are also at risk and are often coaxed into sex trafficking by the pain of hunger. With no family to provide for them and no money to feed themselves, prostitution seems like the only way to survive. Their meager income is used for basic necessities like food, water, clothing, and shelter. There is nothing left over to help them escape. Disastrously, once inside the industry, they see little or no way out. Many times, intervention is the only source of escape.
Please pray with us this month for the city of Porto Alegre. In anticipation of the World Cup, there are prevention and intervention efforts taking place that aim to prevent the trafficking of children. Pray with us that these efforts would be successful and that local law enforcement will see this crime and stop it from happening. We believe God takes action when we pray, and we encourage you to lift your voice before him asking for the freedom of those in bondage.