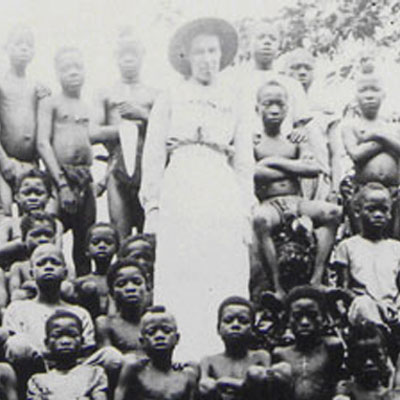 It has been said that a picture is worth a thousand words. Through a media campaign aimed at ending atrocities in the Belgian Congo, Alice Seeley Harris proved that this familiar phrase is often true.
It was the late 1800s, and King Leopold II of Belgium was in the process of brutally enslaving and murdering millions of Congolese. It is estimated that 10 million people—nearly half the population of the Congo—were killed during King Leopold II's 23-year reign.
In 1898, English missionaries Alice Seeley Harris and her husband, John, traveled to the Congo. Alice took hundreds of photos depicting the cruel abuse suffered by the region's inhabitants. When the Harrises returned to England, they employed a mass media campaign designed to create awareness and call for an end to "The Butcher of the Congo's" reign of terror.
Harris's images were at the center of the campaign. Her photos, graphically depicting the brutality faced by inhabitants of the Congo, were also turned into slides. Through "Magic Lantern Shows," these images were projected before large audiences all across America and Europe. Harris presented her images at 200 meetings in 49 cities. The gatherings brought Leopold II's heinous crimes into the international spotlight and marked one of the first times in history that photojournalism was used to create social change. Contemporary documentary photographer Richard Mosse describes the Congo as one of the first places in which photography became a powerful humanitarian force.1
Exodus Cry also believes in the power of images to create awareness and spur social change. Through images captured in Nefarious: Merchant of Souls and its upcoming sequel, we hope to awaken people to the realities of human trafficking. It is our hope that these images will inspire people to join us in our quest to eradicate modern day sex slavery. Please consider supporting our mission with a donation. Your gift will help fund our efforts to set the captives free.
Footnotes
1"Alice Seeley Harris – Woman of Action," A Celebration of Women, March 25, 2013, http://acelebrationofwomen.org/2013/03/alice-seeley-harris-woman-of-action/