Today we all can collectively celebrate another WIN for the abolition movement!
Yesterday the Republic of Ireland followed the lead of Sweden, Norway, Iceland, Canada, France, and Northern Ireland, to be the seventh country in the world to pass the Equality Model (Nordic Model) of legislation—making the purchase of sex illegal.
This is the same model of legislation we both endorse and celebrate in our sex trafficking documentary film, Nefarious: Merchant of Souls.
The law came in the form of a bill called The Sexual Offences Bill, which passed its final obstacle in the Irish Senate, and is now part of the Irish Statute Book. Abolitionists in Ireland are calling the passage of this bill the "most important legislation since the formation of the State."
The new law criminalizes the purchase of sex, going after the demand that perpetuates this insidious industry. By doing so it helps to PREVENT sex trafficking and all forms of commercial sexual exploitation. At the same time, the sale of sex is not punished, and those caught in prostitution are offered social services and means of escape from the sex trade.
Denise Charlton, Chair of Turn Off the Red Light, one of the leaders in the fight to pass this historic legislation said:
"From the very beginning this Bill has been about protecting and supporting those most vulnerable to sexual exploitation, violence and abuse. It focuses on the perpetrators of sexual crime – the pimps and traffickers who enable abuse and exploitation to continue, and who benefit from it financially… Today Ireland joins the international trend to target those who perpetuate abuse. We are standing side by side with survivors of abuse, and recognising the harm and inequality inherent to the sex trade. This is a significant step towards a more equal Ireland for all."
This is yet another monumental day thanks to the tireless efforts of a large coalition of abolitionists in Ireland, Europe and across the globe.
Below are some notable tweets related to this historic breakthrough: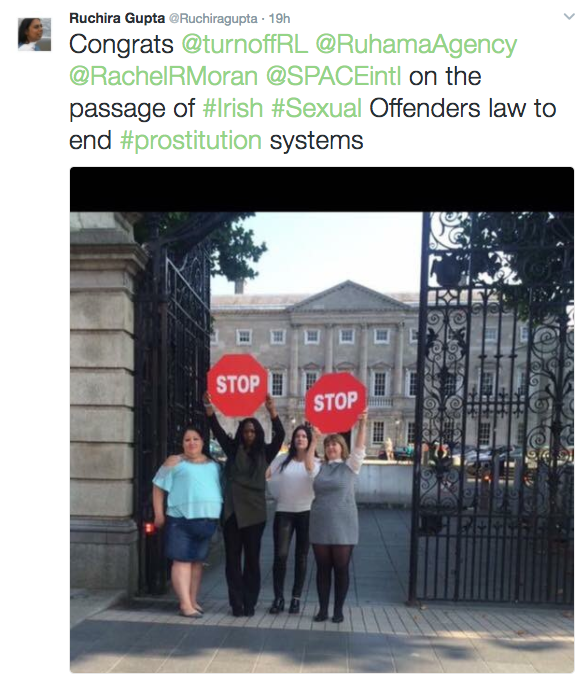 RELATED POSTS