For the past three months you've joined us in prayer for the many victims of commercial sexual exploitation in Istanbul, Turkey. Sadly, many of the women who have found themselves trapped in sexual slavery in Istanbul were trafficked there from Moldova. Now we will turn our prayers to the country of Moldova, a place that is a massive source country for victims of sex trafficking around the globe.
What's Happening in Moldova
Moldova is a small Eastern European country with enormous need, and incredible potential to rise above its longstanding status as the poorest country in Europe. The average monthly wage of the majority of Moldovans in 2016 is only a mere $2381—far below what is needed to survive. Job opportunities are scarce, and upward mobility is nearly impossible for most people. This has created an environment where many Moldovans are desperate to leave the country in search of opportunities for a better life.
Many Moldovans are desperate to leave the country in search of opportunities for a better life.
Migration experts believe that about one-quarter of all Moldovans now live abroad, predominantly in Russia and the European Union, and that most schoolchildren and almost all university students expect to leave the country to find work.
Endemic corruption, government ineptitude, lack of infrastructure, lack of commerce, and lack of resources has put the country in a dire position. In 2014, anger and despair at the dysfunctional "system" came to a head when $1 billion (one-eighth of the country's GDP) was suddenly stolen from Moldova's banking system. The banking scandal mobilized Moldovans to launch some of the biggest protests in the country's history2. Some have noted that patriotic sentiment in Moldova is greatly diminishing, as many Moldovans feel a sense of hopelessness about the state of disrepair their country is in. Ultimately, many Moldovans have a strong desire to be anywhere except in their country.
How Sex Trafficking Happens in Moldova
The combination of intense desperation and hope for a better life is an incredibly powerful force that drives many young Moldovan women into the hands of their exploiters. Many fall prey to the tactics of "lover boys" who promise romance, love, and an exciting future abroad.
Many fall prey to the tactics of "lover boys" who promise romance, love, and an exciting future abroad.
Others buy into the myriads of advertisements for jobs in legitimate industries such as tourism, modeling, hotels, restaurants, and others—just to find that those were fronts for what they were really recruited for: prostitution. Once in the new country, women soon find out that they barely make enough in their legitimate jobs to survive. The cost of living is high, and they must pay back large debts to the the travel and job agencies (or, in many cases, traffickers) that got them there, in addition to sending money home to their families—which for most is the reason they agreed to take the job in the first place.
Sherri Nozik, an Exodus Cry staff member who has visited and studied Moldova, says, "this situation forces them into other forms of 'work' and creates opportunities for people to profit off of the vulnerability of Moldovans, whether that is companies that don't pay the wages to Moldovans that they have to pay to people who are citizens of EU member states… or for pimps and brothel owners who see the beauty of Moldovan women and want to sell it for a profit."
These days, many Moldovan women are aware of how trafficking happens, as years of education and awareness efforts have informed them of the dangers of traffickers. Many women have even heard first-hand horror stories from others who have returned from lives of abuse and exploitation in prostitution abroad.
Yet, they are so desperate to leave the country, and driven by desire to rise above poverty, that they are willing to take the extreme risk anyway and "sign up" to work in prostitution. Vladimir Ubeivolc from the anti-trafficking organization, Beginning of Life, in Chisinau, said girls he has worked with have reported by their actions and words that, "it is better to be a slave in Europe, than to be free in Moldova."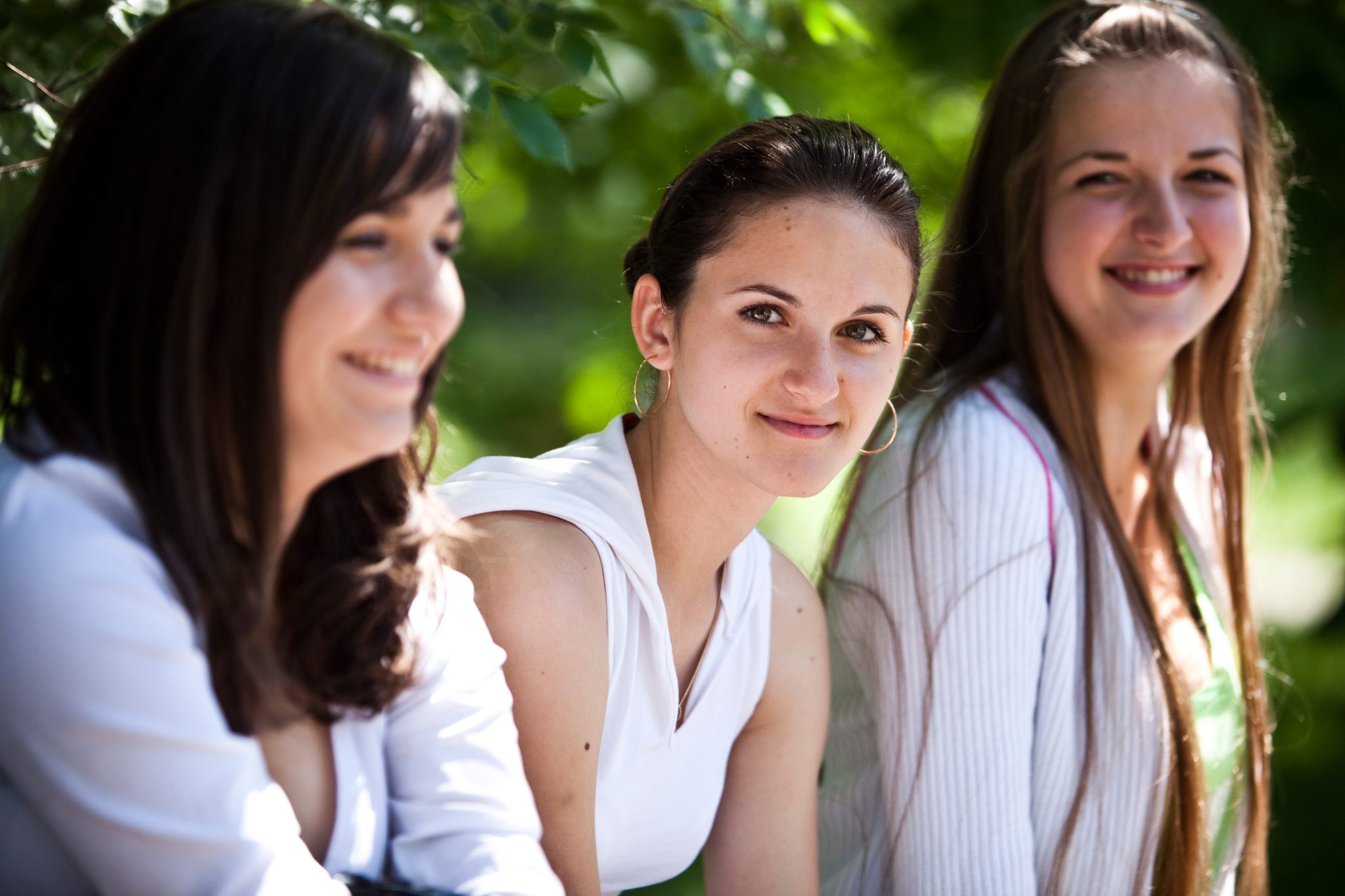 Young women in Moldova.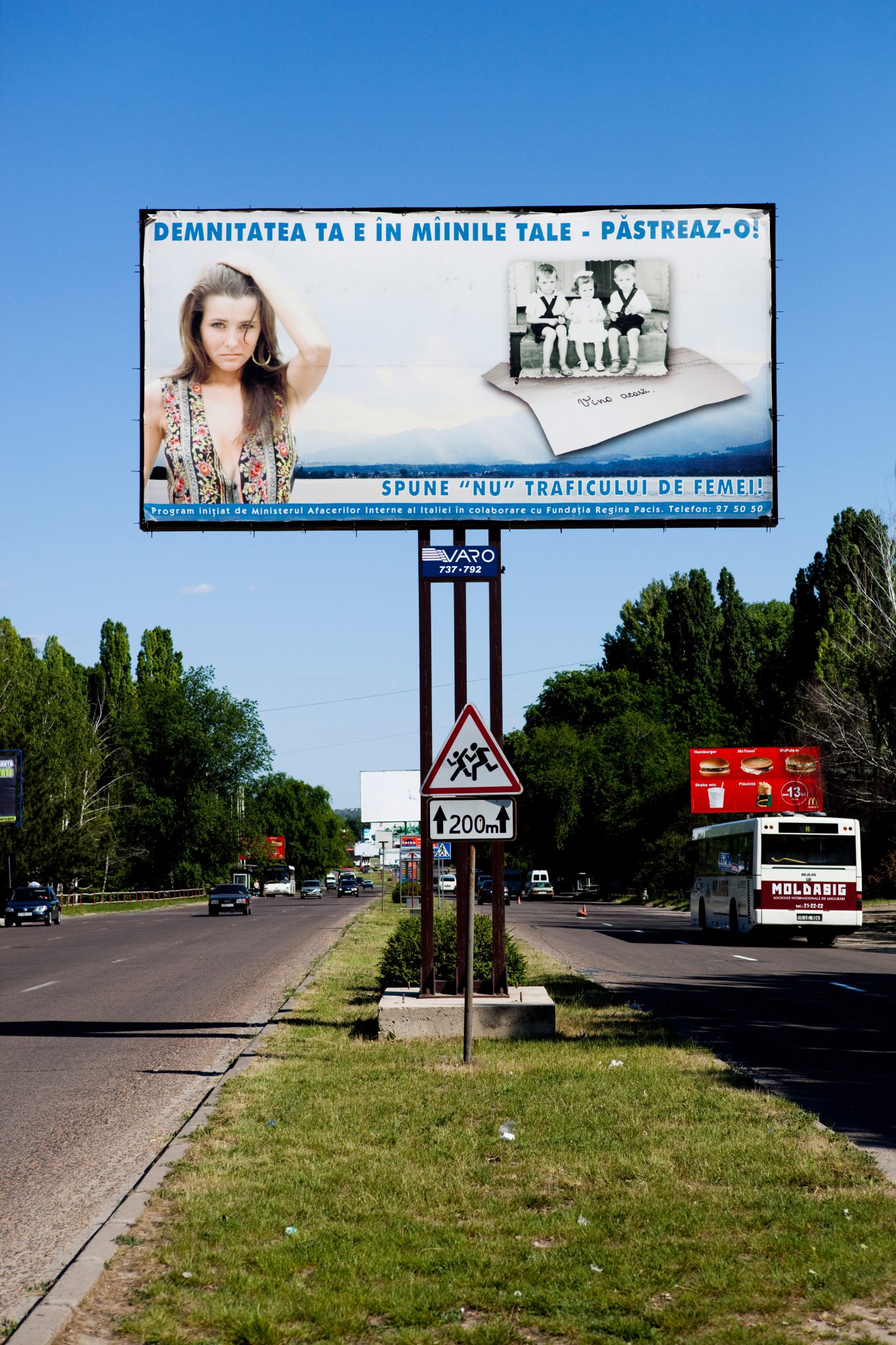 This Moldovan billboard reads: "Your dignity is in your hands – keep it" and "Say 'no' to trafficking women"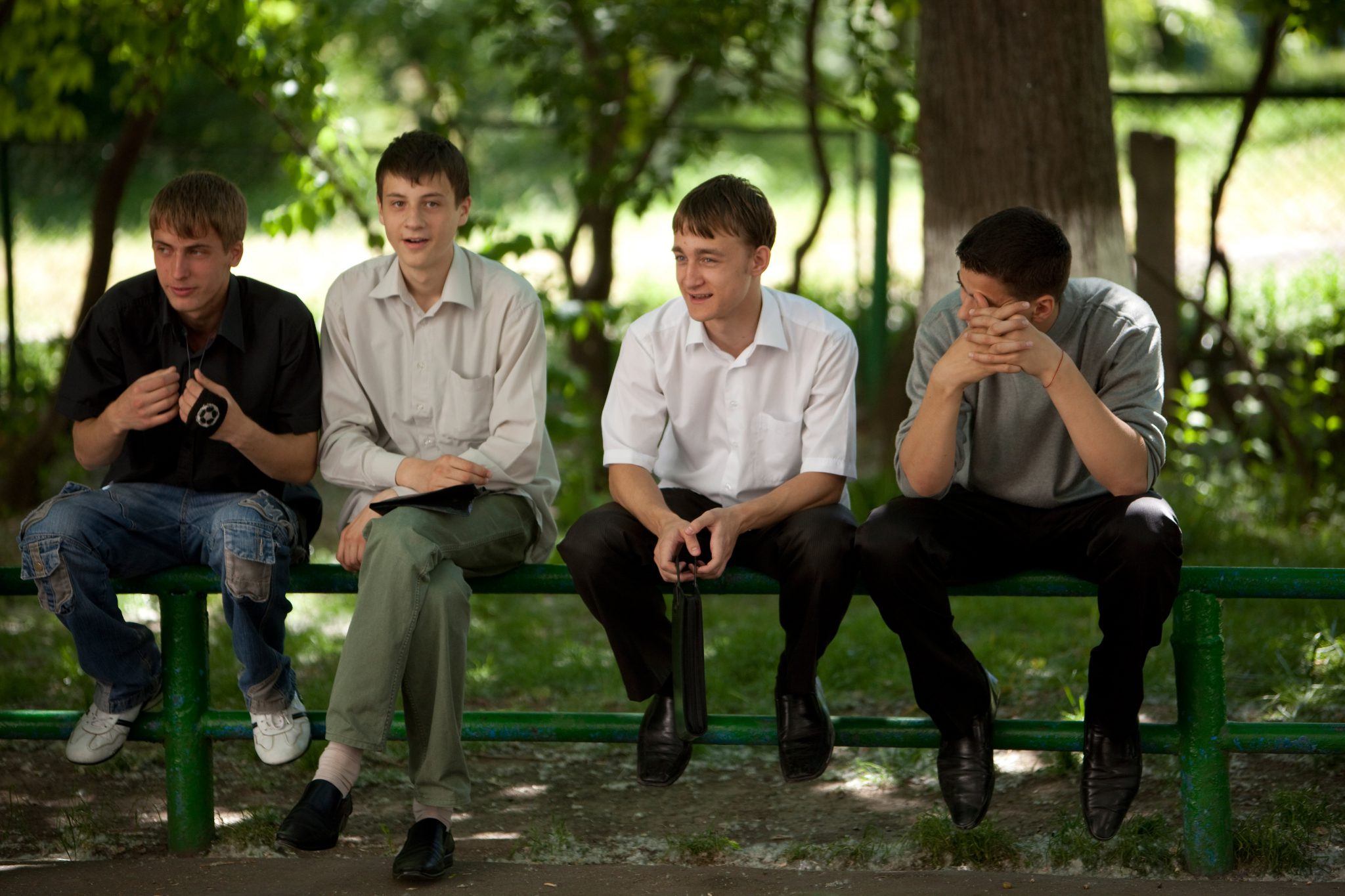 Young men in Moldova.
Many women around the world buy into the Pretty Woman illusion of prostitution as a glamourous job, and dream of escape from a place where they feel they have no future.
Many women around the world buy into the Pretty Woman illusion of prostitution as a glamourous job.
However, the reality of being a sex slave in any part of the world, they soon find out, is certainly not better than being free in Moldova.
Katya's Story
Take for example the story of Katya (name changed for security), who was first trafficked from Moldova at the age of fourteen and forced to work in prostitution for seven years in Italy, Turkey, Hungary, Romania, Israel, and the UK.
She told The Guardian in an interview, "Just look around you—see how many girls there are like me. They are coming all the time. I see them every day—in tube stations, all made up, early in the morning. Maybe for you it is difficult to see them, but I see them… I think the police should work better to stop this… They took me to a forest and I was beaten and raped. Then they made a noose out of rope and told me to dig my own grave as I was going to be killed," Katya's court statement reads.
"They tied the noose around my neck and let me hang before cutting the branch off the tree. I really believed I was going to die. They then drove me to a house where many men were staying. They were all very drunk and took turns to rape me. When I tried to resist, one man physically restrained me and pulled my front tooth out using pliers."3
The Orphan Crisis
Ultimately the cause of the exploitation of Moldovan women and girls is their vulnerabilities that come in many forms. One recent development in Moldova, causing yet another vulnerability, is the closing down of all of Moldova's "orphanages."
Ultimately the cause of the exploitation of Moldovan women and girls is their vulnerabilities
Most of these so-called orphanages were essentially boarding schools where the majority of the children in them actually had living parents, but were put into these institutions for almost any reason, including disabilities, parents being sick, poor grades, or poverty. After widespread backlash against this Moldovan "orphan" crisis, the government took action to shut the institutions down and return all of the children home who had living parents.
The problem is that many of the children returned to homes rife with abuse, leaving these children particularly vulnerable to sexual exploitation. Becky Barnaciuc, who works with the organization Operation Mobilization, recounted the sad story of one girl stuck in this Moldovan system.
"We knew she [a six year old girl] was being sexually abused by her mother's boyfriend… and we saw many strong indications that she was being sold for sexual services [riding off with different men on their motorcycles, being outside during all hours of the night, offering boys oral sex who were not there to exploit her], but we couldn't prove it. We went to the authorities [social worker for the region and mayor of the town] and they were reluctant to remove her from mother's home because they had been told that children must remain with their families. It took two years before she was removed from her mother and placed away from that abusive situation."
In addition to the inherent vulnerability of poverty in the country, Moldovan social workers say that children in abusive homes are easy prey for traffickers, and the statistics prove them right. Moldova has one of the highest rates of human trafficking in Europe.
While in Moldova, Sherri sent us her prayer requests for the nation. Here is what she asked us to pray for in the coming months:
Pray for a healthy sexuality to be restored.
Pray for victim blaming to stop.
Pray for an increase in understanding, compassion, unity, and mercy in the church in Moldova.
Pray for families to remain intact, and for those that are broken, to be repaired; and especially for pastors and others in the Church to rise up and bring family to those who are abandoned.
Pray for rain, particularly in the south of Moldova.
Pray that all of those searching for comfort and relief in alcohol would finally find what they are actually looking for: a loving relationship with Christ.
Pray for provision and favor for the existing governmental and nongovernmental organizations that are serving the people of Moldova.
Pray for the upcoming elections this Fall and for righteous leaders to be raised up. It will be the first direct democratic election by the people since 1996.
Pray that the Moldovan people would see themselves as the answer to the corruption and pray that they would have courage and resolve to see it end.
Pray for liberation from the destructive cycles that have perpetuated an orphan and victim spirit among the people of Moldova.
Footnotes
1. http://www.tradingeconomics.com/moldova/wages
2. http://www.irishtimes.com/news/world/europe/crisis-hit-moldova-s-youth-look-abroad-for-their-future-1.2512570
3. http://www.theguardian.com/law/2011/apr/19/sex-trafficking-uk-legal-reform
4. https://www.rescue.org/sites/default/files/resource-file/IRC_WomenInSyria_Report_WEB.pdf
5. http://www.csmonitor.com/World/Middle-East/2014/1026/In-Turkey-Syrian-women-and-girls-increasingly-vulnerable-to-exploitation
6. See US Department of State Trafficking in Person's Report 2001-20015
7. http://www.dailymail.co.uk/femail/article-2588795/The-shocking-fate-Eastern-European-sex-trafficking-victims-revealed.html#ixzz3vwIaj447