From the beginning stages of research and intercession to launching a team across the world, each Exodus Cry initiative strongly depends on a variety of dynamics that go above and beyond what can be seen on the front end.
Every time we send our Director of Intervention to a city notorious for trafficking, there is a team that is hard at work to prepare and secure the journey. Every time we establish a new LightHouse of restoration, there is a team buzzing with activity to lay the foundation and build the scaffolding. These critical assignments, along with plenty more have been the collaborative effort of our Operations Team, moving strategically to maneuver all projects that come our way.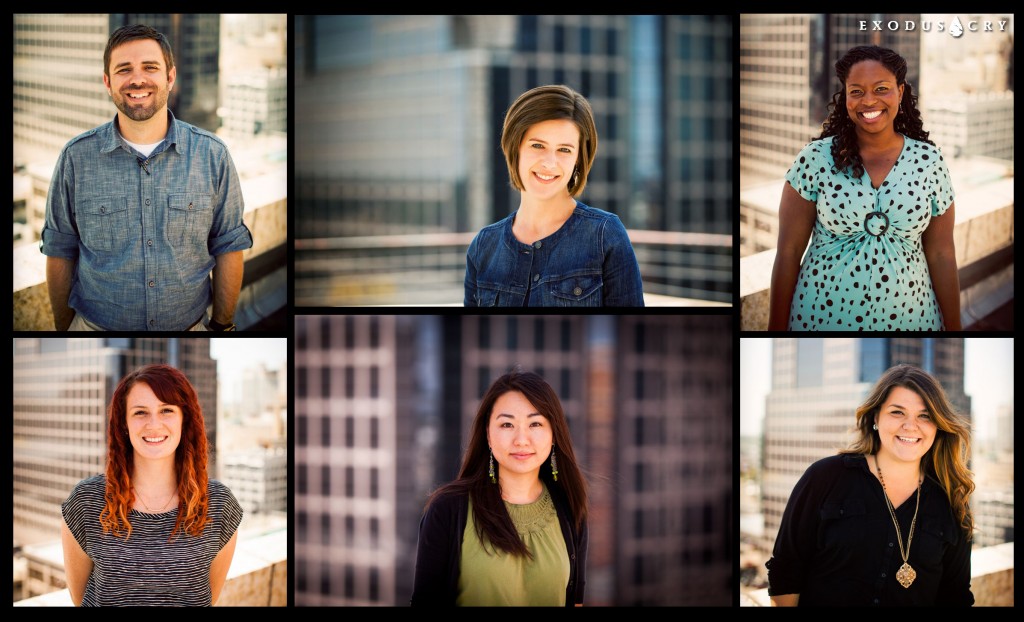 Top row (left to right): David Morris, Morgan Goatley, and Sherita Lucky
Bottom row (left to right): Courtney Moore, Marie Shimomura, and Ashley Leir
Not shown: Rachel Jeffries, Yale Kim, and Kyle Nagy
Daily they contribute to the rest of the departments, whether it's in the offices or overseas, and we're taking this week to celebrate them at our headquarters! We want to share with our followers how important they are to the design of this anti-trafficking community and why their fingerprints are pretty much on everything—whether it is a screening tour of Nefarious or weekly reminders to the staff about team prayer. As the Exodus Cry community has grown in both spiritual strength and physical numbers, Operations serves as the guardians of our infrastructure. They are there to make sure that each dollar sown into Exodus Cry goes directly where it is needed and that our network of activity is facilitated with excellence. They lock down the numbers, plug Incurable Fanatics into our network, and take on every logistical task under the sun in order for our strides toward justice to land smoothly.
"I love working in Operations because we get to see how the Lord pulls it all together. I love watching my colleagues serve the cause of justice and be faithful with all the many details."
—Sherita Lucky, Human Resources Manager
"Serving Exodus Cry in the position of the Operations Department is a true sign of the heartbeat and DNA of this organization. It's a joy to serve those who are either on the front lines with women caught in commercial sexual exploitation or spreading the message of Christ-centered abolition to the nations."
—Courtney Moore, Finance Assistant
"I want to be connected to Jesus no matter what department I am in or what area of Exodus Cry I am serving at any given time. The profit from every shirt I send out gives more money to our lighthouses, our outreaches, to the laborers, and towards setting captives free and seeing their lives rebuilt into something beautiful. That makes it completely worth it to me."
-Ashley Leir, Operations Administrative Assistant
If you want to get involved with our Operations Team and the rest of our staff, there is always an opportunity to join us as a volunteer and start getting your hands on what we do at Exodus Cry. We need ongoing volunteers to be museum tour guides, transcribers, and researchers. And with the 2013 Abolition Summit coming up, we are looking for event volunteers to serve as ushers, parking attendants, and registration booth workers.
Contact [email protected] today to sign up as a volunteer!