Before the New England Patriots' historic comeback against the Atlanta Falcons shocked the country, another historic event shook the dark corners of the city of Houston.
Around 300 abolitionists gathered for the 4-day Justice Rally conference and outreach—hosted by our friends Elijah Rising, in partnership with Exodus Cry—and we pray Houston will never be the same.
With unplanned poetic timing, we realized the rally marked ten years to the day since Exodus Cry founder Benjamin Nolot was first awakened to the heinous injustice of sex-trafficking. What a way to mark this monumental anniversary!
For three months leading up to the Super Bowl, many of you from across the world joined us in prayer, via the IHOPKC webstream to pray for the ending of commercial sexual exploitation in Houston and for this Justice Rally. Below is just some of what your powerful prayers accomplished…
The gathering began with a one-day training workshop, led by myself (Helen Taylor), based around our newly released Intervention Manual. Each attendee received a copy of this 190-page guide, which offers a clear plan for effective outreach to those bound in sexual exploitation.
I was genuinely moved as I looked out into the eyes of this crowd, many of whom had travelled hundreds or even thousands of miles to be part of this historic event. Here was a company of people who'd said "yes" to the invitation from the great abolitionist—Jesus Himself. His mission had become their mission: to share the good news, bind up the brokenhearted, and see liberty come to the captives.
Over the next 3 days, we deployed 60 teams on 15 different outreaches per day. Here's some of what we were privileged to be a part of:
Calling Exploited Women
We called women sold online for sex to offer them a rescue hotline number.
Calling Sex Buyers
We called consumers, a.k.a. alleged sex buyers, who responded to a fake backpage ad that we had placed. We told them about the realities of trafficking and offered resources for sex addiction. Dozens of men expressed deep remorse and many even requested prayer over the phone!
One of Exodus Cry's volunteers spoke to a young man who had called the fake ad thinking it was a real woman. As our volunteer began to explain the realities of prostitution and trafficking, the man became very quiet.
He then shared openly that he had known the Lord in the past. He said he'd left the faith, walked down a dark path, and began buying women online. His voice broke with emotion as he repented and turned back to God, even asking our volunteer for follow-up and resources!
Stories like this are truly the ultimate intervention, because demand is what fuels sexual exploitation.
Raising Awareness
We raised awareness about sex trafficking and commercial sexual exploitation by distributing creative, eye-catching print literature and posters throughout the city.
Visiting Strip Clubs
We went into strip clubs and gave out home-baked cookies and gifts with a secret hotline number hidden on it. We offered prayer and kindness.
At the first club I took my team into, I spoke with a girl, Jessica*, who was sitting at a table with a customer of the club. I gave her the gift and some brief encouraging words before beginning to walk away, wanting to respect her time. But she grabbed my hand and wanted to talk more.
After we chatted for a few minutes about what we were doing in the strip clubs, I whispered in her ear my most heartfelt prayer on her behalf, declaring her worth and value over her. Jessica's eyes, with their green-colored contact lenses, were filled as she whispered back, "I will definitely be calling the number."
The customer at the table looked amused by our interaction and as I turned to leave he handed me his business card with a leery smile. He was an attorney.
Encountering Prostituted Women
We went to Asian brothels, Mexican cantinas, and the well-known prostitution streets in the city.
The main prostitution track in Houston that we went to was lined with around 50 girls who paced up and down. Several girls we stopped to talk with glanced nervously over their shoulder and replied something like, "I can't talk or I'll get into trouble… Thanks for the phone number on the gift though, I will keep it. It's a really good idea!"
We realized that many of the pimps were watching their girls closely from inside parked cars along the streets. A few women were able to walk away from eye-view and interact with us for longer.
One woman our team met, Marie*, wanted to talk. She sat down on the curb as she shared some of her story and asked for prayer that she could have a "real job" and a new life.
The team offered to adorn her with a temporary tattoo, which said "Loved" in red letters. She loved the idea. They used a bottle of water to seal it onto her skin as they prayed for her.
It was a deeply emotional and powerful moment, particularly because many pimps brand the women they traffic with real tattoos of their name or symbol. God was writing a new name on Marie's arm and tears flowed as she felt the love of Jesus meet her in her place of shame.
As a female team member hugged her she told them, "I can't even remember the last time I was held or hugged in a caring way."
Hosting a Prayer Room
We hosted a prayer room that ran all day and evening, worshipping Jesus and interceding for the breaking in of justice across Houston.
I remember walking past the prayer room one afternoon during a quiet moment when most teams were on outreach. There were just a handful of people praying and the worship team was passionately pouring their hearts out in adoration for Jesus.
A musician began playing a spontaneous melody on his trumpet. It was so powerful and anointed—I began to weep as I knelt facedown in the presence of God. The war cries of heaven were reverberating over Houston, Jericho style, with King Jesus Himself leading the battle cry.
Training Abolitionists
We offered additional training workshops during the day on various forms of outreach and key topics led by survivors such as, "Finding Your Own Lane in the Anti-trafficking Movement" and "How to Walk Alongside a Survivor."
Gathering and Sharing
Each evening we gathered to share the various testimonies of what the Lord had done that day, worship together, and hear from a keynote speaker. Elijah Rising's founder Cat French, survivor-leader Rebecca Bender, and our own CEO Benjamin Nolot, shared before dispatching teams for another nightly outreach.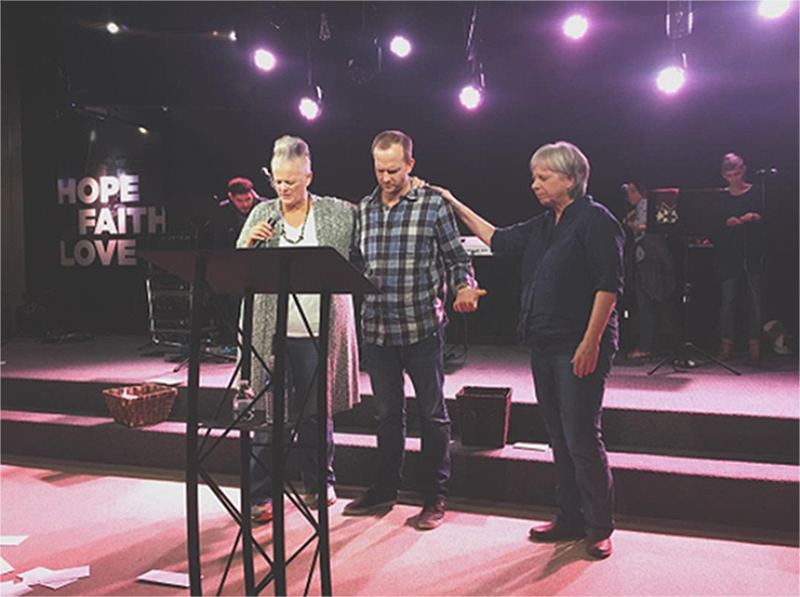 Elijah Rising Founder, Cat French, and Exodus Cry Founder, Benjamin Nolot, on stage at the Justice Rally. Photo credit: Elijah Rising
It was so powerful to witness the abolition arm of the body of Christ come together from far and wide to seek Him, get trained, and go! Attendees shared how they felt equipped to begin some of these various outreaches back in their own cities after getting trained in such an empowering, greenhouse environment like the Justice Rally.
Although short-term missions can sometimes struggle to establish follow-up, organizations like Elijah Rising and Rescue Houston are there long-term to build upon all that was initiated during Super Bowl week. The many outreaches helped to strengthen and expand their amazing, ongoing work.
We pray that the Lord will bring growth to the thousands of seeds sown during those four days—that a harvest would be reaped of men and women transformed from an encounter during the Justice Rally.
Please continue to pray for the ministry of Elijah Rising, that all forms of the sex industry in Houston would be shut down, and that lives would be forever redeemed and restored.
Stay tuned for future blog posts with more exciting stories from Houston!
If you're interested in starting your own outreach team, start with this invaluable resource!
Here's the breakdown by the numbers, supplied by Elijah Rising: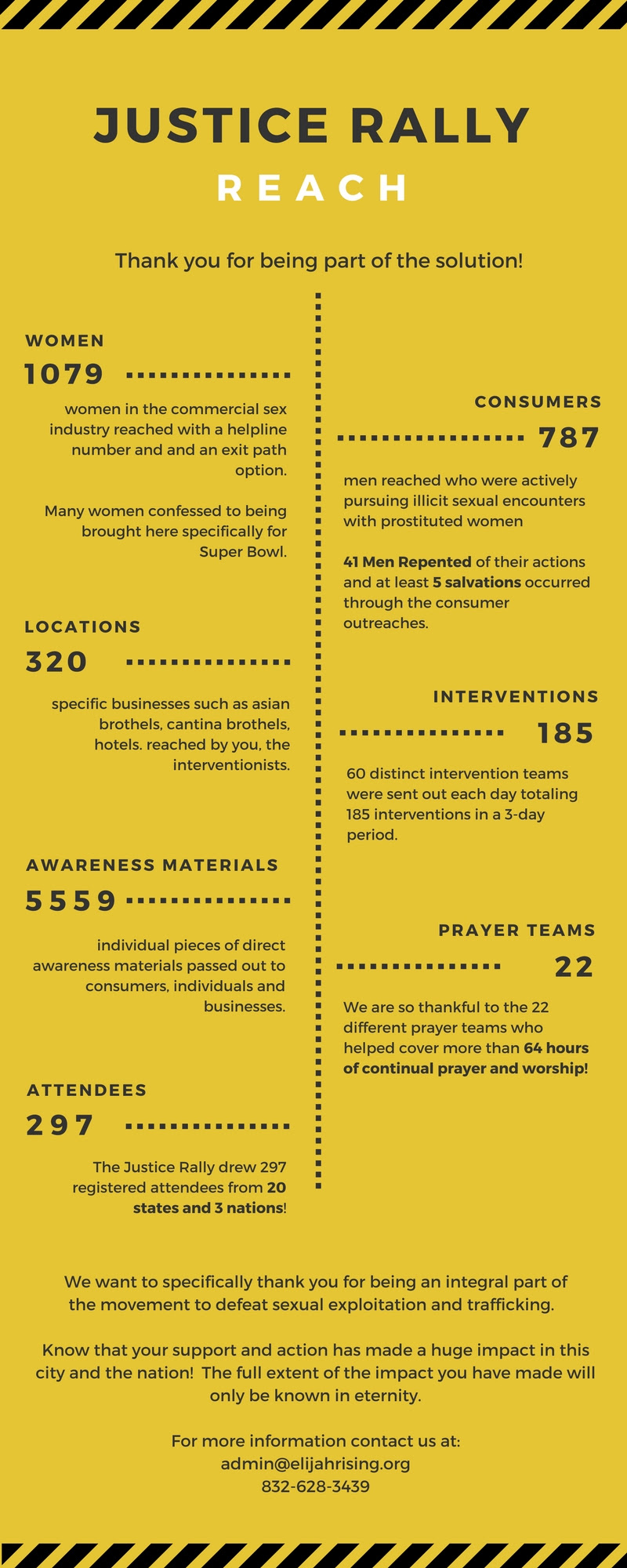 Watch our Abolition Summit 2016 archives for more insight and inspiration in the fight against sex trafficking.
Footnotes
Header photo credit: Elijah Rising. Photo modified.