Today marks 25 years since the film Pretty Woman was released, and the cast has reunited for the first time to reminisce about the making of a film that has become one of the most popular love stories for a generation of moviegoers.
I have to admit that as a teenager, I too loved the story of Pretty Woman. However, as I journeyed down the path that led to my life's work and my passion for advocating for women trapped in the prostitution industry, I have often looked back on my approval of that film with a sense of regret. I have learned from research and my first-hand contact with women in the sex industry that the reality of prostitution is not a romantic fantasy but a tragic horror story. Sadly, in my work with Exodus Cry, my colleagues and I have encountered young women who have told us that Pretty Women lured them into the sex industry by leading them to believe that prostitution was glamorous and romantic. We interviewed one such girl for our documentary about sex trafficking. Stephanie was sexually abused as a child and entered into prostitution underage. She was dominated by an abusive, controlling pimp and trafficked for sex. Her experience was extremely brutal. She told us, "I watched the movie, Pretty Woman, and I was like, well gosh, look at her, she's beautiful, she's making money, she's meeting guys, and she fell in love with this guy, and she's living in this nice hotel suite, and has everything she wants, and she's fallen in love, man I need to become a ho. That's what I thought, so, that's what I did. I experienced nothing like Pretty Woman, it's totally, totally different. I've been held hostage at gunpoint, raped, robbed, strangled, beaten up, everything, by customers."
How many young, naive, and unsuspecting women over the last 25 years were deceived by the fairy tale of Pretty Woman and led into a life of abuse, trauma, and slavery? We can only estimate the role—however big or small—that this film played in adding to the vulnerability of young women at risk for being coerced into the industry. As such, the cast today should be issuing an apology to those women and raising awareness about the plight of girls trafficked in the commercial sex industry, as well as the inherent and serious harms of prostitution. You see, Julia Roberts' teethy smile is not the true face of prostitution. The real face of prostitution is the battered and bruised face of Maria, an actual prostituted woman in Eastern Europe who is depicted in this award-winning photograph. Maria, like 75 percent of women in prostitution, has been raped.1 Maria, like 95 percent of women in prostitution has been seriously physically abused and battered.2 Maria, like 68 percent of women in prostitution suffers from post-traumatic stress disorder due to her "job".3 Maria most likely entered into prostitution as a child after a history of sexual abuse, as most women in prostitution do. And Maria is probably under the brutally abusive control of a pimp, as most women in prostitution are. Maria is a victim of sex trafficking. Julia's role was indeed a fantasy. The reality isn't pretty. Don't believe the myth.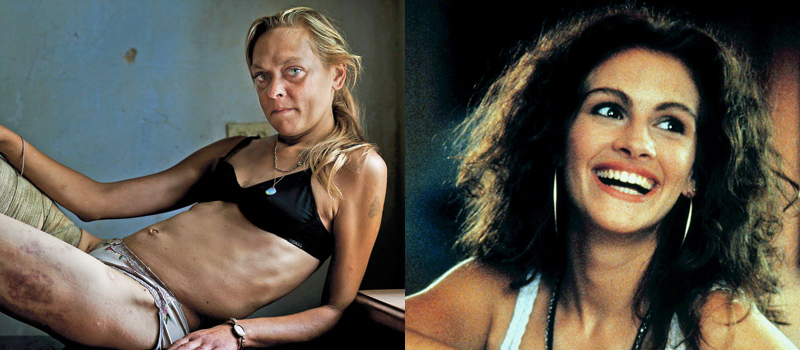 Footnotes
1. Farley, Melissa et al. "Prostitution and Trafficking in Nine Countries: An Update on Violence and Posttraumatic Stress Disorder." Journal of Trauma Practice, Vol. 2, No. 3/4: 33-74. 2003.; and Farley, Melissa. ed. Prostitution, Trafficking, and Traumatic Stress. Haworth Press, New York. 2003.
2. Ibid
3. Ibid
4. Photo Credit: Brent Stirton's award-winning photo of Maria.
5. Photo Credit: Julia Roberts in a scene from Pretty Woman.

95 Comments on "The Reality of Pretty Woman"