The entire length of Lydia's* back was scarred with the words "Property of XXXX." It was the name of her pimp—her trafficker.
But it wasn't just a "tattoo." As this permanent ink was violently, forcibly embedded into her skin something even more painful and devastating was being communicated to her by her trafficker:
"You belong to me."
Lydia was being stripped of her identity, her dignity, her autonomy. And it happened not just once but twice, leaving behind the names of two of her perpetrators on both her arm and back.
This is the kind of trauma that leads to numbness and dissociation, where intense pain causes an individual to disconnect from the world around them—especially from their own body. Lydia began to experience this.
It was years after these tragic incidents that we met Lydia and we were so thankful to receive her into our Restoration Program. 
Sometime after she joined us, she expressed her desire to have these branding tattoos covered up or removed. For Lydia, these haunting marks of past exploitation weren't merely skin deep. When she would go to doctor's appointments for basic checkups and exams, she would feel uncomfortable—she would try to cover up the tattoos herself with globs of black ink.
She carried the worry of being stigmatized and judged by others, fearing they might catch a glimpse of these messages branded to her skin.
There was also terror, fear, intimidation, and shame—these were the emotions she felt when she was first inflicted. And they did not go away. As long as the ink-laden scars were visible she had to continually battle these emotions, as if the wounds were still fresh.
In her words, reflecting on the tattoos,
"I used to hate looking in the mirror or looking down at my body and seeing them. Every time it's like I would have to see 'her.' That person they created—that piece of property, dope whore, money maker. Now I can look at myself and know I was never 'her' … getting these tattoos covered was part of knowing my real identity."

As Lydia continued to walk out her restoration journey, she came to understand the true right she had to her own body. The more this realization grew so did feelings of anger and grief, which were both natural and healthy for the healing process. These were a sign that she was reclaiming what was rightfully hers. 
When she approached our Restoration team about the possibility of tattoo removal or coverup, our team began exploring ways to meet this critical need—both for her and for two other women in our program, who later also expressed this need.
We knew that branding of trafficking victims was a common injustice and hoped there were some government services that could help cover related costs. We contacted our local FBI Victims Specialist and the Missouri Sheriff's Department, but were disappointed to find out no such services were available in the state.
Our search continued over many months as we contacted medical offices and tattoo studios in hopes of finding free or reduced cost services, but we kept hitting a wall. We finally came across Righteous Tattoo Studio in Bonner Springs, Kansas.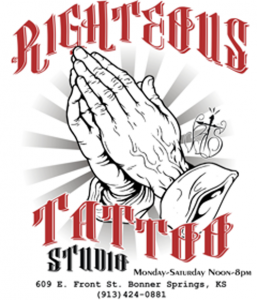 We were especially thankful that Donnie, the founder and owner, was a man of faith. When we brought Lydia into the studio, he prayerfully sketched a beautiful tattoo coverup across her back, incorporating meaningful colors and symbols. We could see that both Donnie's artistry and generosity flowed from his deep, abiding love in Jesus. 
On Lydia's arm, she chose to cover up the name of her former perpetrator with the name of her first child who is now in heaven. What was formerly a symbol of degradation would be transformed into a most treasured reminder of beauty, innocence, and love. 
Receiving these new coverups, however, was not easy. And it wasn't merely a cosmetic procedure.

Lydia had to brave through hours of painful tattooing over large areas of scar tissue from past exploitation. She had to face everything these grievous tattoos were associated with, both physically and emotionally. She also needed to apply meticulous aftercare to help her body heal well in between appointments, which lasted about 2 hours per session. 
In total, it took 18 hours to complete both of the coverup tattoos over the span of 9 months. Lydia endured this painful process with such grace, and in fact, this experience helped to reveal and refine more of the hidden strength and dignity she possessed. 
Today Lydia is more her true, beautiful self. She's lighter and more hopeful. She's more comfortable in her clothing, unafraid to wear outfits that show off her arms. She feels a greater ability to connect with people without fear of stigma and judgment. And the fact that she, by her own choice, has been able to undo what was forcefully done to her is incredibly empowering.
How many more women are there like Lydia, whose strength and dignity have been hidden behind globs of black ink? There are so many more who have suffered sexual exploitation, whose lives have yet to be restored, who are waiting for someone to help them begin their journey of healing. 
It's your financial support, whether large or small, that helps fuel this priceless transformation in real lives. Without you we'll have no redemptive stories to tell. Partner with us today to forever impact the lives of our sisters, brothers, daughters and sons.
*Name changed to protect identity