Monday night, the Exodus Cry team prayed for Jesus to move in South Africa.  Specifically, Benji Nolot prayed that Jesus would walk through the streets of the cities and rescue women, one by one by one (see video at 00:30:00).  It didn't take long to see an answer to prayer: the next morning,  Blaire Pilkington (Exodus Cry Director of Philanthropy) sent an email update of from Durban, South Africa. Using nearly the exact language she reported what God was doing with the Exodus Cry team as they ministered in the streets. Read her remarkable story of rescue and redeption below.
Redemption in Durban
Last night our team went out into the red-light areas of Durban to minister to prostituted women and trafficking victims.  We had a very powerful time of prayer beforehand and felt the Lord had hidden treasures for us in the darkness, that Jesus was literally going to walk ahead of us through the streets, preparing hearts, and that our team would follow behind to pour love on the hearts he had touched.
This was exactly the case, it was as if everyone we talked to was ready to hear, open souls!  Our team was led to two women standing on a corner with a man who looked to be their pimp.  We approached the three of them and began talking to the man first.  He was open to the Lord and let us pray for him.  After praying for him we began ministering to the two ladies, telling them of the Lord's love for them, his plans for their life, and that there was more for their future than a life of prostitution.  The girls' faces begin to change as we talked, and then they told us they were ready, they wanted out.  We grabbed their hands and led them through the streets littered with clubs, pimps and prostitutes, back to our meeting place.
We were able to connect them with a sweet lady named Petra who has a safe-house here in Durban.  Petra is the epitome of a Mother here in Durban, and as she walks the streets, everyone seems to know her.  The safe-house is set in the hills of Durban and overlooks the Indian Ocean.  As we drove to the house we prayed for the peace of the Lord to wash over both women in that moment of transition from bondage to freedom.  Again i was blown away by their bravery, to trust complete strangers, to go with them, get into a car, go to a new place… it really was an act of the Lord when He opened the door of deliverance and these women chose to walk through it.  It was a holy moment for our entire team, a moment when we felt the honor of partnering with the Lord in intercession and then partnering with him in the real time and space.  We literally held the hands of these women and walked with them from a place of fear and bondage to a place of safety and hope.
Today, our team is resting and rejoicing. We spent the morning in prayer at a nearby church and this afternoon we are headed to the beach to baptize one of our teammates in the Indian Ocean!  Tomorrow is our last day in Durban before the two day drive to Cape Town. We are going out on the Durban streets tomorrow night, one last time before we go and are contending again for the glory of the Lord to go before us.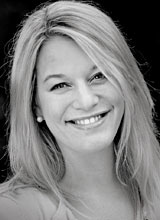 Blaire Pilkington,
Director of Philanthrophy
---