Brazil is a nation preparing to take on the global stage. It is receiving an unprecedented amount of attention due to the impending World Cup 2014, taking place in twelve of its cities, and the 2016 Summer Olympics in Rio. At the same time, it is also hailed as the next Thailand for sex tourism; because of the legalization of prostitution, there is an influx of johns flocking to the coastal cities in search of illicit sex.[i]
Behind the beauty and rich culture of such a diverse country, sexual exploitation is systematically breaking down the innocence of children in the shadows of Brazil. According to the Protection Project report, there are 250,000 to 500,000 children caught in the sex trade in Brazil (other sources say there are up to 2,000,000[ii]). Read more on the trafficking situation in Brazil here.
This year, the Lord has strategically placed Brazil on the heart of Exodus Cry. Each of the seven individuals on our team has a history of serving Exodus Cry, and the women and children involved in the sex industry. They will be involved with the house of prayer by day and hitting the streets by night, reaching out to those who are being prostituted in different parts of the country. After months of praying, training, and fasting together for this trip, their hearts are ready for battle.  Last Thursday, they made their departure towards the first stop: Fortaleza.
Meet Our Team (from left to right):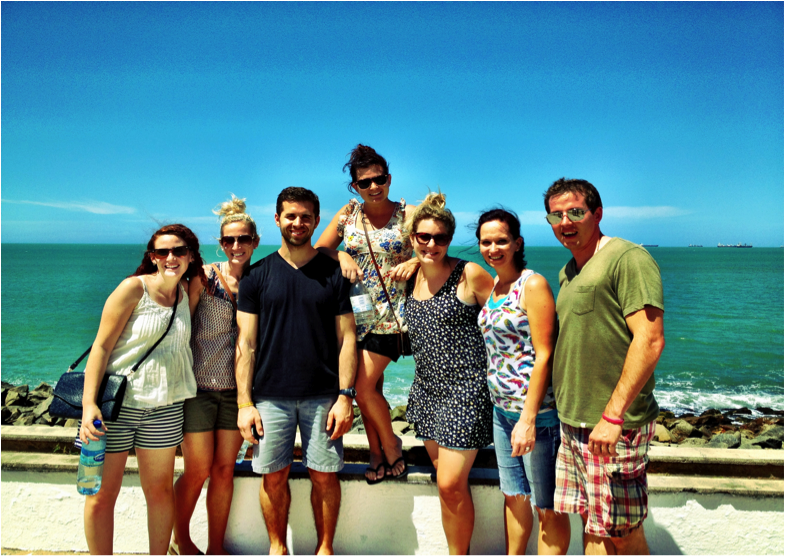 Courtney Moore:
-Serves in the Operations department of Exodus Cry and participates in local outreaches in the Kansas City area.
Elizabeth Ames:
-Has traveled to South Africa in 2010, ministering to women in the red-light districts and raising awareness on the dangers of trafficking.
Luke Salvatore:
-Fall 2011 Incurable Fanatics Tour team member
-Participates in local outreaches to those who are being prostituted in Kansas City.
Meagan Morris:
-Serves in the Intervention department under Blaire where she facilities the rescue of women domestically and internationally.
Blaire Pilkington:
-Exodus Cry's Director of Intervention and Team Leader
-Has led teams into Thailand, South Africa, Israel, Great Britain and the United States spreading the message of Christ-centered justice into political and religious arenas.
Stephanie Queen:
-Local outreach leader ministering in the streets of Kansas City every Friday, praying and meeting the women and men who are being prostituted.
Tim Fraim:
-Exodus Cry's Incurable Fanatics Team Coordinator
-Central Team leader of the Spring 2011 Incurable Fanatics Tour
 Here's Where They're Headed: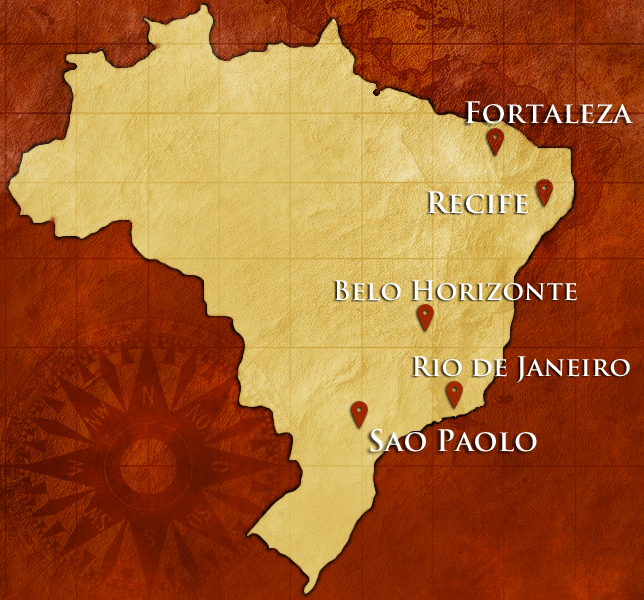 1. The gang just left Fortaleza, where they ministered side-by-side with Iris Fortaleza. Iris Fortaleza has been praying and plowing the ground in a favela situated right next to the beach, making it a prime slum for prostitution.
2. They are currently in Recife to work in conjunction with Shores of Grace ministries. These ministries are opening a safe home for women coming out of prostitution and consistently work in signs and wonders, hosting a church in the streets and doing nightly outreach.
3. On November 10 there will be TheCall Brazil in Belo Horizonte and Benjamin Nolot, CEO and Founder of Exodus Cry, will lead the gathering in prayer with our team. TheCall will be a twelve-hour solemn assembly to pray, fast, and contend for a culture of life in Brazil.
4. Nefarious will be screened in Sao Paulo and Rio de Janeiro to raise awareness in local churches and commission Brazilian Incurable Fanatics to stand in the gap for their nation.
Cover Their Journey:
We are expectant to see the work of God in every broken and dark place as the team gains ground each day. Pray with us for Jesus to move in power through our team and the film Nefarious, exposing the grisly injustice of human trafficking and loving those they encounter along the way. We hope and pray for a movement of awareness that will undermine the plans of traffickers and bring salvation to the streets.
Download our 30-Day Prayer Guide for Brazil
Iris Fortaleza – http://irisbrasil.org/
Shore of Grace – http://www.shoresofgrace.com/
The Call – http://thecall.com/