"You don't really look like you belong here. What are you doing here?"
A man at the porn convention approached me and from our conversation I realized he assumed I was there as an adult performer. After I told him I wasn't, he paused and looked closely at my face and then made that comment and asked me that question.
What was I doing here? He was surprised to learn that our team was there reaching out to women being exploited in the porn industry and giving them gifts and a helpline. The very idea that women in porn might need a "helpline" immediately addressed the elephant in the room.
At the end of the conversation, I asked him if he had a daughter. He said he had a 6-year-old daughter and when I asked how he'd feel if she became a porn performer he said without blinking "I'd drag her straight out of there."
I reminded him that every woman there was a daughter and then I urged him "Sir, be the best man you can be for your daughter. She needs you to be a hero. Go be the hero of a dad she needs you to be." He looked down and then nodded and said "I will." He looked emotional as he thanked me and shook my hand.
As myself and my three other female team members, each of whom is a leader in the outreach space with survivor-led organization Stand 4 Justice, entered the Las Vegas building where this porn convention was held, we were struck by the surreal nature of what we were walking into. Girls on live webcams behind dozens of booths in the entrance, sexual imagery everywhere, a man in a suit holding a dog-chain attached to a female's neck as she tottered behind him, men swarming by a booth promoting hyper-realistic sex-dolls… Wow. As a living woman, that one hit me like a slap in the face.
Conflicting emotions coursed through me: anger at being immersed into some things I hate—the degradation, objectification and commercialized exploitation of women, awkwardness knowing everyone there must assume I'm into porn, overwhelming compassion to the women I see around me and the deep love of the Father as He sees them as His own daughters—I was really asking the Lord to help my heart align with His in every situation and give me grace for the mental gymnastics I was experiencing.
"Hey there, how's it going?" The two guys in front of me in the entrance line turned to me with a grin. I tried to smile as though it was completely normal we were both in line for a porn expo and casually replied "Oh fine thanks." A part of me wanted to confront these guys and say "Why are you here?! Don't be those guys! Choose to value women and leave this place!" But I knew I couldn't go down that road. We were there for the women. Focus Helen.
That morning the team and I had processed the tension of desiring both God's justice and mercy. I'm so aware of the harm caused by consumers and perpetrators, yet I knew we were there to extend grace and compassion to every person we spoke with. I had to choose a posture of grace, not judgment (towards the consumers and those operating this exploitative industry), and leave justice to the Lord on this day.
The context was important—we were there for outreach and to agree with a higher purpose for all these men and women. It honestly felt challenging that morning—could I bless and pray for my "enemies" when they came in the form of a broken porn producer who needs Jesus just as much as the women?
As someone who values the zealous heart of the Father that fights for His daughters (I fully believe in the times of holy confrontation, e.g. our founder Benjamin confronting the pedophile on the motorbike in Cambodia!), I realized in this particular context and outreach assignment I couldn't carry anger into that space. I needed to partner with His mercy to all, even if wholly undeserved, and entrust every person to Jesus' justice.
So shortly after processing all of that, I saw a woman there I recognized who we'll call "Nancy." Nancy is an older woman in pornography and is viewed as a sort of spokesperson for the adult industry. Our forthcoming documentary series about the porn industry, Beyond Fantasy, actually features her sharing about some highly exploitative and disturbing films she has been a part of, one of which promotes incest.
Because of her longstanding and prominent role in the industry, she's someone that I have honestly personally struggled to have compassion for. But I felt the Lord whisper "Can you love even her? Can you release a higher mercy towards her and intercede for her by choosing love?" My mental wrestle from that morning came flooding back and I responded "Yes Jesus—I cannot love in my own strength but I believe your love is enough. You want Nancy free. I choose love." I felt that He wanted me to hug her and pray that Jesus' justice and mercy would touch her life, whatever that may look like.
As I lined up to speak with her, Rhianna's song with the lyrics "We found love in a hopeless place" came on in the background. Timely Lord. I told Nancy I knew who she was and just wanted to meet her and give her a hug, and so I hugged her.
She then looked at me closely through her smile and asked "And are you living the sex life of your dreams, sleeping with tons of men and doing all manner of crazy kinky things?" Wow Nancy. I had to think fast how exactly to answer that so I looked her straight in the eye and calmly replied "I can tell you I am living a truly free life and I am an empowered woman living my dreams!" (who knows how she interpreted that)
She smiled, stood up and gave me a high five, and as we high fived I said a hearty and unplanned "Amen to that!" Oops! Before I outed myself I turned and walked away, but felt a strange victory and hope that Love truly could be found in a hopeless place—and in seemingly hopeless hearts.
He had an international web channel and… asked her to give her testimony of leaving porn, on this channel…
One of our outreach team members was formerly a porn performer and is now living a beautiful, free life and walking with the Lord. She had prayed to reconnect with a few specific people in the industry that she'd known years prior. While we were there, she ran into one of the guys she was praying to see! He had an international web channel and because he remembered her, asked her to give her testimony of leaving porn, on this channel, during a live video stream interview!
She shared her story and how she'd returned there to bring hope to the women. All of the comments being posted online during this live interview were positive, with many people around the world saying how much respect they had for her for leaving porn and building a successful life. What a divine set up and meaningful moment of testifying!
Our team's approach was to offer gifts to each woman we met with: jewelry, prophetic paintings, and hotline cards with a support number.
One of the first girls we met remembered the team from the previous year and looked excited to see them again. She pulled a postcard out of her purse–it was a watercolor painting given to her by the team the year before! "Receiving this painting meant so much to me, I've had it in my purse ever since." I was so moved at how the small gesture of giving a simple painting had impacted her heart.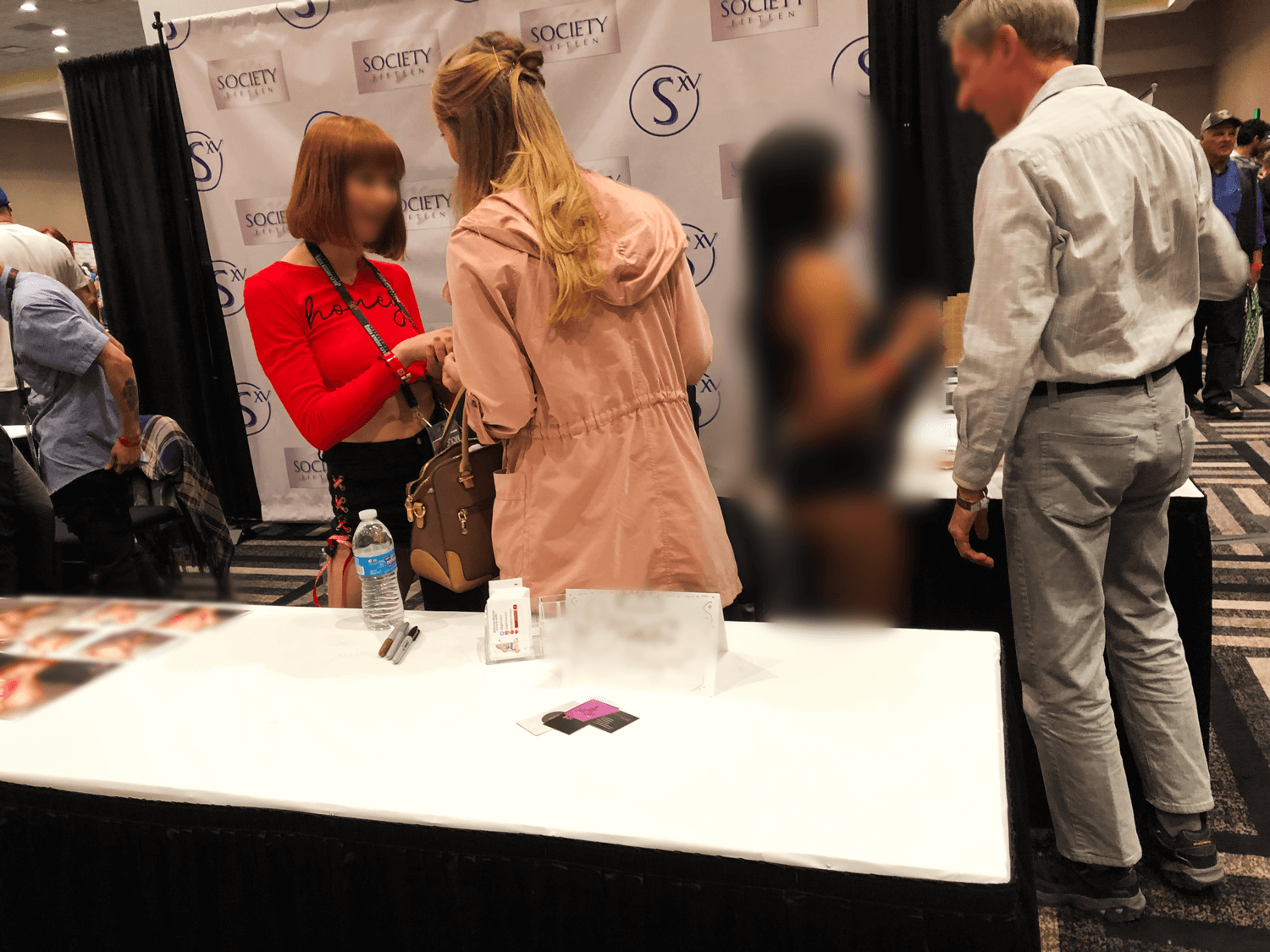 "Woah you have this white light all around you, I can see it," another young porn performer in a red dress said to me as I began speaking with her. I told her it was God's spirit, the Holy Spirit, and that He is full of light. We had a good conversation and she was excited about the jewelry we gave her. When we explained to her about the hotline card she acknowledged that help and support for the women were very needed in this industry.
"Woah you have this white light all around you, I can see it," another young porn performer in a red dress said to me…
The BDSM floor felt the most overtly dark. In one area leather whips were being sold. You could actually "test out the whips" and line up to beat the back of a woman whose arms were tied to an apparatus. As I walked past, trying to conceal the disturbed look on my face, I was offered a whip and invited to lash this woman.
In that moment, her so-called "consent" (if even legitimate, as who knows her story) to being there seemed less relevant than the idea that this would be promoted as progressive sexuality. Surely it's more regressive to include dehumanizing violence against women as a part of the sexual experience (like, hello!?).
I spoke with two girls from the Kink booth (Kink is a large studio that produces BDSM porn) who were dressed as teenage school girls and looked so young. One girl, who seemed barely 18, looked quite nervous and uncomfortable, but really softened when we gave her the jewelry and hotline card. I later saw her at a cafe in the venue and bought her a tea. It was heartbreaking to think of what their future could hold at Kink, and I wondered if they were locked into a contract.
Behind the kink booth, a young woman was bound and gagged with rope and duct tape. She was being photographed wearing a gas mask. Horrific. It was so dehumanizing and I couldn't escape the mental reference to torture in Nazi gas chambers. And to think, this industry proudly heralds itself as "sex-positive." The irony is bitter.
We met a woman who was a dominatrix on that floor. While chatting with her, her boyfriend kept trying to interrupt. He looked angry the whole time we talked and would hand her random things, bang on her chair, pace, stare us down, and generally just looked furious at us.
When we asked her how she got into the industry the walls began to come down as she opened up about being a teenage single mom who began stripping. At this point, she teared up. For all the hard exterior of the so-called empowered sex worker, it doesn't take much to get a glimpse of the true situation.
RELATED: Women in Porn Accuse Top Agent of Sexual Abuse, Trafficking
For us, the most important element of outreach is love and we desire women to feel that from us in every interaction. One of the prophetic paintings we had with us (painted by a separate team) was of a panda with the Chinese word for "love" on it. We thought this picture must be for someone specific (!). So when the team saw a girl on that floor dressed in a panda outfit, they knew it was for her! She was really moved, especially when it turned out her name was Amor which means love in Spanish! Her eyes grew wide when she realized how specifically the Lord was speaking to her, telling her that she was known and loved. It was a powerful moment.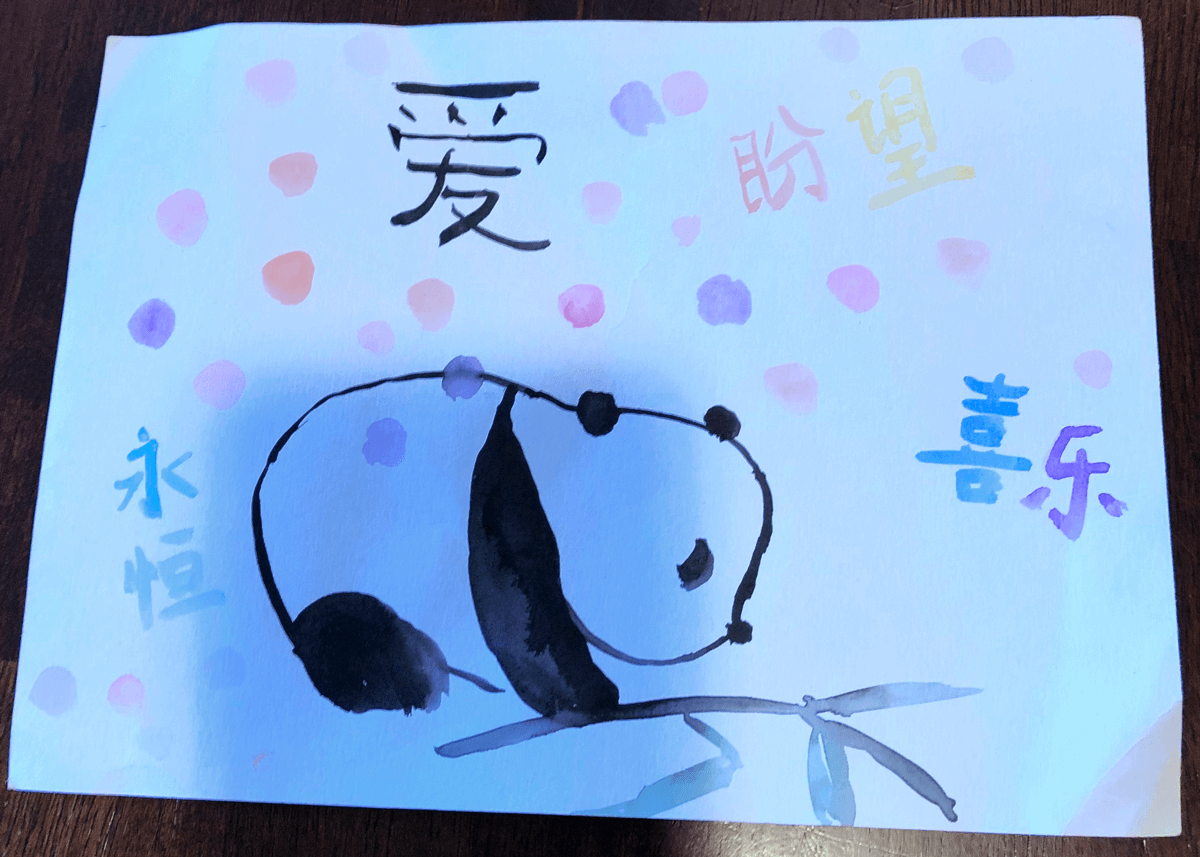 Two girls we met teared up immediately as we gave them the jewelry. One seemed genuinely shocked at this display of emotion and said "Wow I'm actually crying, why am I crying?"
The other girl said she had a dream to open a center where women could get healing from trauma and do empowerment workshops. She told me she used to be in the circus. When I encouraged her, telling her how amazing her dream was, she too began to cry and turned her face so she wouldn't be seen by the passers-by. She gave me the biggest hug and her phone number, and we have been in touch.
"Wow I'm actually crying, why am I crying?"
So many of the girls we met had incredible passions and dreams and many of them believe the only way they can attain them is to earn quick money in porn. The reality usually ends up a very different story and few are fully aware of the trauma, physical damage, possible STDs and soul-crushing disillusionment that comes with doing porn.
We met a man named Joe who runs a tech platform used by the porn industry. One of our team members had a word that Joe needed to call his grandmother who'd been praying for him. He confirmed she was a woman of faith and that he hadn't talked to her for a while.
When we saw him the next day he said he'd called her the night before and that he knew he needed to invest more into his family and his kids. He asked if we had any other prophecies for him and he wanted more prayer. He seemed different than the day before and said he felt that God was clearly speaking to him and he needed to figure some things out in his life.
As we were leaving, we saw a girl dressed in a sexualized schoolgirl uniform. She turned out to be from a town where another team member was from! An older man was waiting to talk to her and she said he'd been following her all day. Afterward, I decided to approach the man and I politely explained that she'd rather he leave her alone.
He was embarrassed and defensive. I tried to encourage him that perhaps he could find real love with a person who valued his attention and that honestly there was no love or real relationships to be found in porn. He opened up saying he thinks he's too weird and eccentric for most women but holds out hope for a family. He let us pray for him. Interestingly/ironically, at the end of our conversation, he told us he thought no girls under 21 should be in porn because their brains haven't developed and they're vulnerable to getting messed up. (No kidding).
When praying before this outreach I thought of the story in Acts when Paul and Silas worshipped in the jail. As they did, an earthquake came breaking the chains, leading to the salvation of the jailer and his family. I felt that just by being there as His agents of praise, light, and love, an earthquake in the spirit was happening and invisible chains were falling.
In an industry that presents women as two-dimensional objects which exist solely for the pleasure of the consumer, we were seeking to value them as women, as sisters, as multi-dimensional humans—and that message of truth is powerful. Ultimately, for us the very act of going was an act of intercession; our prayer was justice, our means was love.
As an organization, we're just beginning to head into a season of exposing the pervasive exploitation of the porn industry. There's no denying the interconnectedness of porn, prostitution, and trafficking; it both fuels the demand and horrifically exploits women within the industry.
With two books on this subject and our docuseries Beyond Fantasy on the horizon, we are preparing to pull back the veil that's over this industry and expose the truth this year. Our prayer is that we'll see many freed from the bonds of this predatory industry as we continue speaking out and reaching out.
Thank you for courageously joining us in this fight and let's continue contending for freedom for the lives of the women and men exploited in this industry.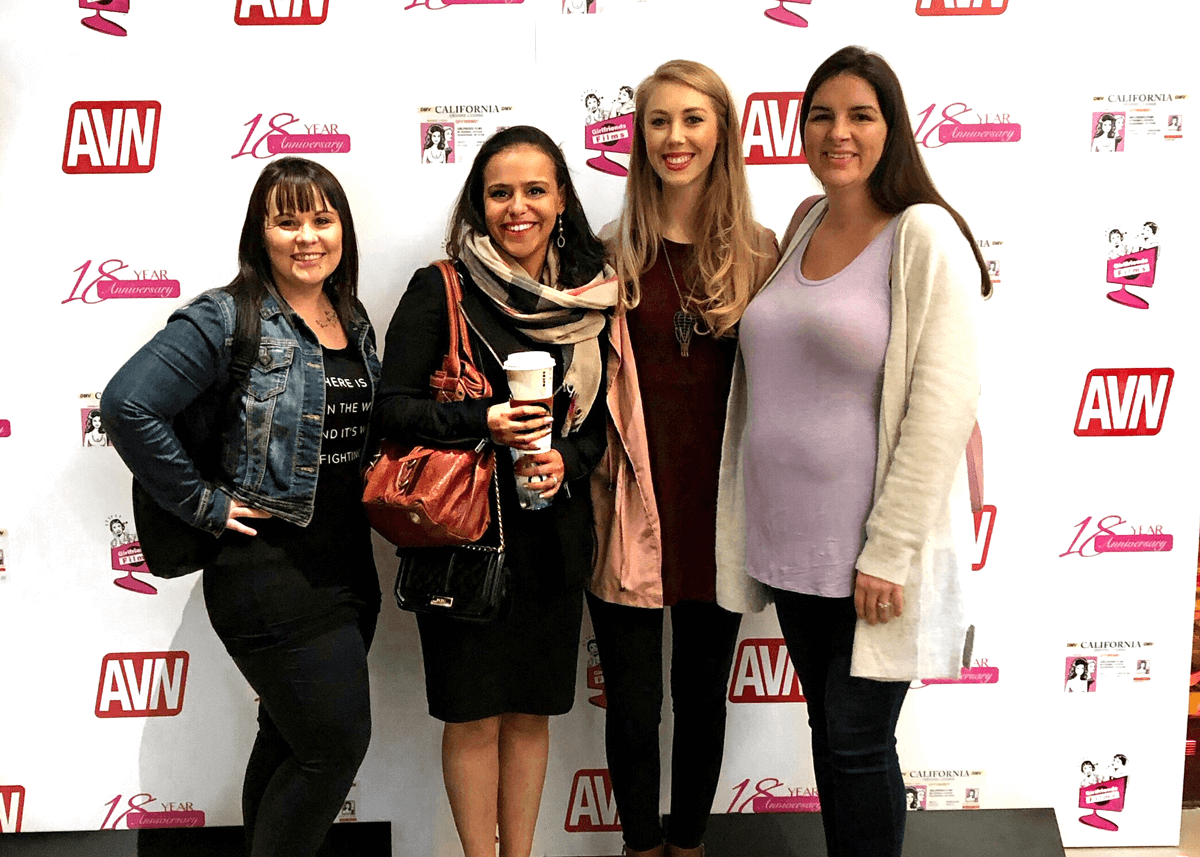 Stand 4 Justice director Sarah-Jane Vegas (center-left) with some of their team and Helen Taylor (center-right).

Helen Taylor is Exodus Cry's Director of Outreach and Intervention. Learn more about outreach and how you can get involved in bringing freedom to women who are bound in the sex industry.