Over one year ago, Exodus Cry presented the trailer of Nefarious and spoke about the injustice of sex trafficking at an event in Chicago hosted by a dedicated group called Patriots United. As we recounted the story of a young American girl who was held as a sex slave in our own nation, one member of the audience was profoundly touched. That audience member was Congressman Randy Hultgren of Illinois. Congressman Hultgren was moved with sustained compassion and a deep desire to see captives set free. As a man of prayer, he waited for the right opportunity, taking it upon himself to invite and rally all members of Congress to an exclusive and important screening of Nefarious at the Capitol Building.
When Congressman Hultgren scheduled the screening on 7/17, the timing couldn't have been more perfect. For the past year, our domestic reform efforts have been focused on creating an important proposal to impact domestic legislation that will have a worldwide impact in the area of sex trafficking prevention. One of the most critical aspects of prevention is reducing demand for sex trafficking victims by combating legal prostitution around the world. The most important diplomatic tool in this fight is the United States Trafficking in Persons Report to Congress (U.S. TIP Report). Exodus Cry's proposal revolved around influencing our government to utilize the U.S. TIP Report to pressure nations around the globe who maintain systems of legal prostitution to change those laws. This change is necessary for those nations to be considered fully compliant with our government's "minimum standards for the elimination of trafficking in persons" detailed in the U.S. Trafficking Victims Protection Act. This may sound complicated, but the reality is very simple. Sex trafficking is an issue of supply and demand: if there were no demand for prostituted persons there would be no supply. Our government has the critical opportunity to influence and direct nations around the globe in their anti-trafficking efforts with the U.S. TIP Report. Our goal is to compel our government to recognize the link between increases in rates of trafficking and legal prostitution and then call out nations who permit it to occur. Ultimately, this recognition in the U.S. TIP Report will be a form of public scrutiny that will cause nations with legal prostitution to re-examine and change their legal systems. We knew that the Capitol Hill Screening of Nefarious was the God-ordained moment to unveil our campaign for the first time.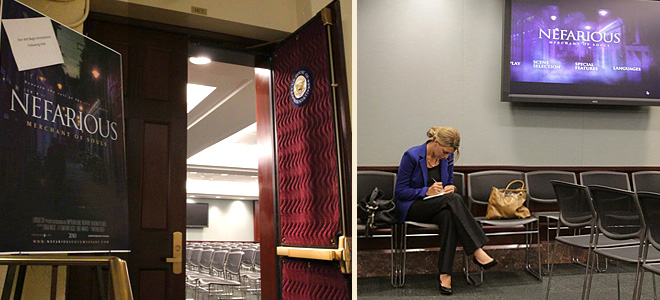 When we arrived at the Capitol, we were unsure if the very busy members of Congress we invited would be able to attend the event. We were told that we would be lucky if we had even two members in attendance, but because of your prayers and your persistence in contacting your representatives, our screening room was filled with over 50 people including Representatives, Senators, Legislative Assistants, Legislative Directors, Foreign Policy Directors and other leaders of our nation.
During the screening there were many tears, and afterward we could tell that those in the room were deeply moved and eager to hear how they could combat the injustice of sex trafficking in their spheres of influence. We explained to them that even though research has shown that legal or decriminalized models of prostitution increase the demand for human trafficking,1 and that the United States government has recognized that prostitution fuels human trafficking,2 this critical stance is not being implemented in the State Department's annual TIP Report. This oversight happens even though making "serious and sustained efforts to reduce demand for commercial sex" is a criteria for meeting the minimum standards for the elimination of trafficking in persons. We showed the attendees that this glaring inconsistency must be remedied.
After the presentation, attendees waited in line to speak with our team and set up meetings. From all reports the screening continued to be a topic of interest on the floor of the House. This was such an encouragement to us and a testimony of the power of prayer.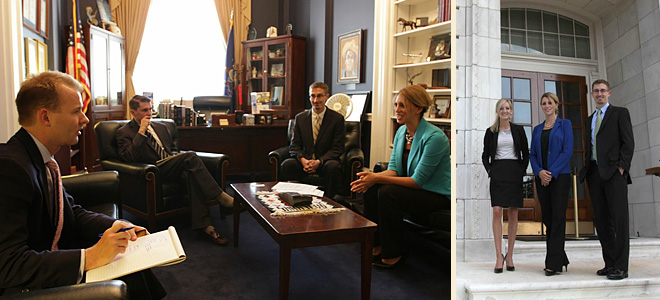 A great deal of momentum was built as a result of the screening and the next day we had back to back meetings with legislators discussing ways to take our proposal and make it a reality. Throughout the course of the trip our reform proposal was received very positively. Our last meeting gave us great encouragement as one influential member of Congress provided advice and guidance for this process.
The amount of favor we have had in the last few weeks is unbelievable. We want to thank Congress, Rep. Randy Hultgren as well as Rep. Frank Wolf and their staff for partnering with us to host the screening. We also want to thank each member of Congress and staff member who met with us, as well as those who expressed interest in moving forward toward abolition. And last but not least, we want to thank each of you who contacted your representatives and faithfully stood with us in prayer for this screening. We recognize that without prayer and without the divine intervention of God and his favor upon us, none of this would have been possible.
To view our full reform proposal click here: https://exoduscry.com/wp-content/uploads/2012/11/REFORM-TIP-REPORT-PROPOSAL.pdf

---
1. See, e.g., Di Nicola, Andrea, Isabella Orfano, Andrea Cauduro, and Nicoletta Conci. Study on National Legislations on Prostitution and the Trafficking in Women and Children. Brussels: European Parliament, 2005. Transcrime. Web. 11 July 2013.; Jakobsson, Niklas, and Andreas Kotsadam. "The Law and Economics of International Sex Slavery: Prostitution Laws and Trafficking for Sexual Exploitation." European Journal of Law and Economics 35.1 (2013): 87-107. Print.; Cho, Seo-Young, Axel Dreher, and Eric Neumayer. "Does Legalized Prostitution Increase Human Trafficking?" World Development 41.1 (2013): 67-82. Social Science Research
Network. Web. 12 July 2013. <http://papers.ssrn.com/sol3/papers.cfm?abstract_id=1986065>.
2. See e.g., TVPA; National Security Presidential Directive-22. The White House. Washington, D.C. December 16, 2002. http://www.combattrafficking. army.mil/documents/policy/NSPD-22.pdf ("Presidential Directive 22"); United States. Department of State. Bureau of Public Affairs. The Link Between