Exodus Cry has created the Red-Light Prayer Initiative in an effort to see red-light districts across the world transformed. We're challenging you to pray for the Kingdom of God to come in the red-light districts every time you're stopped at a red light.
Red-light districts encompass the globe. They serve as harbors for trafficking victims and roaming grounds for sex-mongering men. As these areas remain unchecked, they persist as hotbeds for trafficking activity.
On the surface, red-light districts are seen as safe working environments for prostitutes to express their sexuality while making money "the easy way." Underneath this façade, however, there is a ghastly reality—girls, oftentimes from a foreign country, are being held as sex slaves. They are sold into an industry that gives them nightly quotas and keeps all their earnings. They are disciplined with mental, physical, and sexual abuse, often made passive by forced drug use, and held captive in prison-like residences. Contrary to common perception, red-light districts offer no freedom for prostituted women, only for the men who use, sell, and abuse them.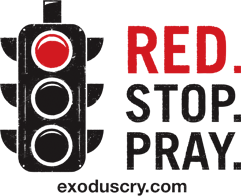 Tag your Instagram photos with #redlightprayer