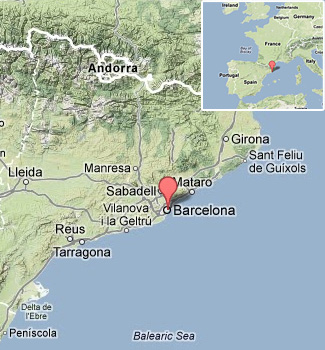 Barcelona is the largest and most popular city in Spain's Catalonia region, drawing visitors from all over the world for its year-round mild weather and endless nightlife. As a result, a booming prostitution industry has grown up around the hundreds of thousands of visitors that come to the city each year, giving rise to the tell tale signs of human trafficking and forced sexual exploitation.
Exodus Cry has had the privilege of working with government officials and NGO workers alike in Spain to help reverse the growing trends of human trafficking. A recent article cited a 2009 study where 39 percent of the male population in Spain admitted to purchasing sex at least once. According to an important study conducted in 2007, there are between 900,000 and 1,500,000 purchases of sex every day in Spain, a nation with a population of 47,000,000. What's more, tourist cities like Barcelona attract and cater to visitors for whom purchasing sex is an expected part of their nightlife. Some tourist websites even go so far as promoting prostitution as a selling point.
As in many other nations, numbers are always difficult to come by when assessing human trafficking in Spain. According to The U.S. State department in 2010, as many as 400,000 women or more are being prostituted in Spain, and up to 90% of these women are being forced to prostitute by organized crime groups. While Laila Mickelwait, Exodus Cry's Manager of Policy and Public Affairs was in Spain speaking with government officials, law enforcement and NGO's, no one disputed these statistics. In fact, many suggested to Laila that the current numbers must be higher as the sex industry continues to grow. This brings us to an important insight; if these statistics and reports are correct, we can conclude that there are currently a minimum of 360,000 women trapped in sexual slavery in Spain. This number is startling and it further reinforces the need for awareness and action. The injustice of sex trafficking in Spain must be brought to light.
Obstacles to Fighting Trafficking
One of the chief obstacles to combating sex trafficking in Barcelona is that within the Spanish legal framework of prostitution, both the purchase and the sale of sex are legal. However, profiting from the prostitution work of another is prohibited, which means pimping and brothels are technically illegal. These scant restrictions are, however, easily sidestepped and rarely enforced. Hotels, clubs, apartments, and houses can function as brothels, charging women a nightly rate for room and board. In fact, a Spanish study found that there were 11,000 locations acting as brothels in Spain.  In addition, street prostitution is rampant in many areas throughout the country.
While the current laws against pimping and brothels might be well-meaning attempts at regulating the prostitution industry, research has repeatedly shown that legal prostitution increases human trafficking by increasing the market for sex, and thus increasing the demand for prostituted women, regardless of ancillary laws such as the outlawing of pimping and brothels.
On The Ground
In addition to these legal hurdles, cultural obstacles exist as well.  When Laila Mickelwait met with Spanish and Catalonian Parliament Members, she discovered even more challenges. Although the Parliament Members did not dispute the astronomical numbers reported by the U.S. State Department, and even wanted to pass reforms that would make the purchase of sex illegal, their stance was that the Spanish public would never support such measures. "Machismo"— an inculturated prerogative of male sexual dominance— is so strong that change would be difficult because, frankly, men want to buy sex and the Spanish culture accepts prostitution as normal.
Another major issue is what to do with the hundreds of thousands of trafficking victims if laws were suddenly changed. The recent financial crisis in the EU— Spain being one of the hardest countries hit— has even affected the mindsets of NGO workers and several victim-advocates tout the same bleak perspective as government leaders. Some of the leaders who spoke with Laila made the argument that the economy could not sustain an influx of 400,000 new workers. Neither, they argued, was the government equipped to adequately process visas for an influx of newly legitimized non-residents. These concerns however, are not legitimate reasons to keep women in systems of exploitation and abuse.
But the alternative, the reality experienced by victims, is bleaker still: deportation to a country of origin, to endure the same dangers that lead to trafficking in the first place. Victims are frustrated that their only option after rescue is to face deportation, to be forced home where nothing awaits them besides intractable poverty, stigmatization from families and repeated exploitation.
Latest Trends
The latest trends in criminal activity suggest that Barcelona is now the base of operations of a number of foreign crime syndicates. The 2012 Trafficking in Persons Report says that "Barcelona…increasingly [serves as a base of operations] for Chinese sex trafficking networks and Nigerian and Albanian trafficking groups." These crime syndicates are embedded in tight-knit, ethnic enclaves, where the members protect one another at any cost. These communities can be almost impossible for police forces to penetrate, making victim extraction all the more dangerous.
While Spain's special police have broken up labor trafficking rings in the past run by Chinese mafia, the most recent busts have been in the brothels. In fact, when police raided a Chinese sweatshop comprised of 450 trafficking victims in Barcelona, they began to wonder if they would find the same sorts of criminal activity surrounding Chinese prostitution. Then, police began noticing explicitly sexual advertisements for Chinese, Japanese, and Korean women. Under further investigation, they found that these prostituted women were all, in fact, Chinese, and were forced into prostitution under the same brutal conditions as the factory workers.
In just two years, Chinese trafficking rings have monopolized the apartment-brothel industry. When Spanish authorities finally were able to infiltrate and take down a trafficking ring, they learned that Barcelona was not the final destination of the victims. The trafficking ring had brought the girls into the EU through Istanbul, Turkey, by means of tourist visas. But the girls were headed for lucrative markets in western countries like America, Canada, and Australia.
The findings of the Spanish police have chilling implications for what we know about trafficking, and how deeply related are global trafficking networks. Since trafficking is a global phenomenon, a girl who was in Barcelona yesterday could show up in Atlanta tomorrow. Crime syndicates know no boundaries—neither nations, nor oceans will keep trafficking at bay. Victims who travel from Beijing, to Istanbul, to Barcelona, to Vancouver, care not when they are rescued; all they know is that the sooner they are freed from a life of slavery, the better.
Prayer Points
Pray that God would send revival to Barcelona.
Pray for a breakthrough in taking down foreign crime syndicates.
Pray for changes in prostitution legislation that would curb the demand for sex by making the purchase of sex illegal.
Pray for the safety of Spain's law enforcement as they continue to infiltrate crime rings and conduct raids on trafficking operations. Also pray for Spanish law enforcement to have a more comprehensive and correct understanding of what constitutes human trafficking in order to better identify and rescue victims.
---
1.Comisión para la Investigación de Malos Tratos. "El cliente de prostitución. De invisible a responsable" 2007 Comission for the Investigation of Ill-Treatment
2.Fundación Alternativas 2008."Prostitución y políticas públicas: entre la reglamentación, la legalización y la abolición" (Prostitution and public politics: between reglamentation, legalization and abolition) Pedro Brufao Curiel
3.Seo-Young Cho, Axel Dreher, Eric Neumayer Does Legalized Prostitution Increase Human Trafficking? (September 2011) (updated January 2012) Courant Research Centre 'Poverty, Equity and Growth in Developing and Transition Countries: Statistical Methods and Empirical Analysis' Georg-August-Universität Göttingen