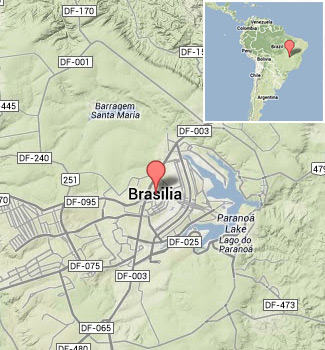 As one of twelve Brazilian cities scheduled to host the 2014 World Cup, Brasilia, the capital, stands out as the youngest capital city in the world. While Brasilia has existed for a mere fifty-three years, Brazil's leaders have been dreaming about the city's formation for centuries.[1]
During the first half of the twentieth century, Brazil experienced a period of growth and progress. Juscelino Kubitschek hoped to expand on this progress when he was elected president in 1955.  The creation of an innovative capital was part of his plan to upgrade the image of the country and to expand industry. In one of his first acts, he appointed Oscar Niemeyer to lead the project as the director of the Department of Architecture and Modern Affairs.[2]  Incredibly, the city was built in just three years.  As "Niemeyer later admitted[,] it was all done too quickly," but Kubitschek insisted on declaring the city officially open in April of 1960.[3]
Niemeyer, one of today's most famous architects, planned Brasilia without traditional "baroque and classical architecture," focusing instead on "clean lines, rational planning, and space."[4]  One example of this "modern Brazilian style" is the National Congress of Brazil.  The building itself is comprised of two semi-spheres, one facing up and one facing down.  This building can be viewed as a powerful parallel to the work of an intercessor: one bowl represents a container being filled with the people's requests, while the other represents the "lawmakers hearing and releasing justice on the land."[5] Although the buildings are "hauntingly beautiful" and "absolutely magical,"[6] Brasilia is also described as a "wasted opportunity, full of pretty buildings, but lacking a soul."[7]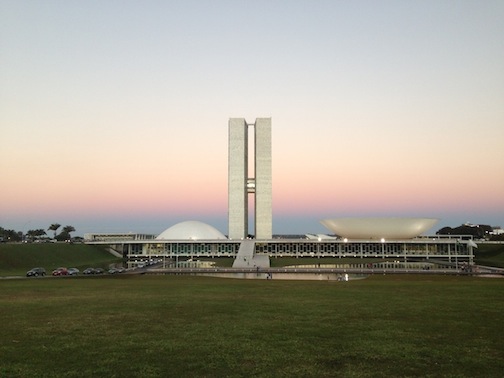 Recent Protests
Brazil's surge in economic growth during the first half of the twentieth century gave rise to a perception of prosperity. In the last twenty years, headlines regarding Brazil have focused on the "millions lifted out of poverty," with the golden opportunities to host the 2014 World Cup and the 2016 Olympics heralded as the "icing on the cake."[8]
More recently, sluggish economic growth has led to the largest protests the country has seen in twenty years.  Fueled by an increase in public transportation costs, citizens are outraged at the "expense of staging the 2014 World Cup."[9]  Protesters' banners reveal the many concerns of the public — "shocking inequality and access to health and education, and the justice of spending billions on sporting tournaments when millions of Brazilians live in unsanitary and squalid conditions."[10]
This year in Brasilia, 200 "campaigners . . . breached security at the National Congress building and scaled its roof."  After the crowds retreated, youths continued protesting by "form[ing] a human chain around the building."[11]  Days later, 594 footballs were placed in the lawn in front of the National Congress building, demonstrating that the ball is now in Congress' court to pass reforms.[12]
Another infuriation to Brazilians is the rampant political corruption.  Politicians in Brasilia are accused of receiving exorbitant salaries and "appointing relatives to phoney" positions.[13]  The protests are working, and change is being affected.  Last year, a number of "high-ranking officials were convicted of corruption."  In June, the Senate passed a law deeming corruption a "heinous crime" and making those convicted ineligible for parole or amnesty.  This bill also increases minimum prison time from two to four years.[14]  On June 28, after he was convicted of "siphoning off nearly $4 million from the State Assembly in Rondonia, in Brazil's Amazon region," Natan Donadon became the "first serving congressman to be jailed in Brazil since . . . the 1980s."[15]
Brazilians have diverse demands, but the common theme is "fatigue" with the government.  Protesters are tired of "corruption, of nepotism, of high taxes paid for poor public services."[16]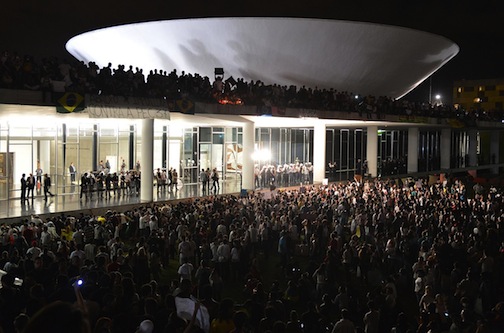 Prostitution
Another area of injustice that is currently being discussed by governmental officials in Brasilia is prostitution and the sex industry. In Brazil, the purchase and sale of sex is decriminalized — meaning it is removed from the criminal code. Though brothels and pimping are illegal, there is a strong push to change even these scant, rarely-enforced restrictions. Currently, a bill is being proposed that would legalize prostitution, pimping, and brothels.
Melissa Farley, a leading researcher in the area of modern-day slavery and prostitution, explains the problem with this legislation:
Prostitution and sex trafficking are linked. Sex trafficking happens when and where there is a demand for prostitution and a context of impunity for its customers. Legal prostitution sanitizes prostitution, making the harms of trafficking for prostitution invisible. Suddenly, dirty money becomes clean. Illegal acts become legal. Overnight, pimps are transformed into legitimate businessmen and ordinary entrepreneurs, and men who would not formerly consider buying a woman in prostitution think, 'Well, if it's legal, now it must be O.K.'[17]
This bill, along with upcoming World Cup events and a current government proposition that would lower the age of consent for sex to twelve years old, could create the "perfect storm" for the mass exploitation of children in a nation that is already one of the world's biggest child sex tourism destinations.[18]
In August, Exodus Cry had the opportunity to speak out against these unjust and exploitative proposals at the highest levels of government in Brazil.  We were able to provide evidence and speak at the televised Human Rights Commission meeting, with the president and vice president of the Human Trafficking Commission, and before the Evangelical Front. We also engaged in numerous one-on-one meetings with senators and "deputies" (the Brazilian term for congressmen/women).  As a result of this trip, we received many invitations to speak further on the issue and to work with senators and deputies in introducing legislation that would criminalize the purchase of sex, pimping, trafficking, and brothels.
One of the biggest obstacles is the deeply ingrained idea that it is a man's "right" to be able to purchase sex. Even in the Brazilian congress, it is said that a regular "catalogue" of women is available to senators and deputies who often take advantage of the offers.  It is important to pray for government leaders in Brasilia to have a change of heart; We pray that they would no longer accept the longstanding idea that "boys will be boys" at the expense of women and children.  During our trip, we were encouraged to meet dedicated men and women in congress who are taking a stand in the fight against exploitation. Please pray that more legislators with clean hands and pure hearts would rise up, speak up, and turn the tide of injustice in their nation.
---

[1] "Brasilia," Unesco World Heritage Centre, n.d. Web. 28 Aug. 2013. <http://whc.unesco.org/en/list/445>
[2] Ibid.
[3] "History of Brasilia," Lonely Planet, n.d. Web. 28 Aug. 2013. <http://www.lonelyplanet.com/brazil/the-central-west/brasilia/history>
[4] Robin Banerji, "Niemeyer's Brasilia: Does it Work as a City?," BBC News Magazine, Web. 6 Dec. 2012. <http://www.bbc.co.uk/news/magazine-20632277>
[5] Carrie McDade in communication with the author, August 2013
[6] Robin Banerji, "Niemeyer's Brasilia"
[7] "History of Brasilia," Lonely Planet
[8] Gary Duffey, "Brazil's Leaders Caught out by Mass Protests," BBC News: Latin America & Caribbean, Web. 17 June 2013. <http://www.bbc.co.uk/news/world-latin-america-22947466>
[9] "Brazil Protests Spread in Sao Paulo, Brasilia and Rio," BBC News: Latin America & Caribbean, Web. 18 June 2013. <http://www.bbc.co.uk/news/world-latin-america-22946736>
[10] Gary Duffey, "Brazil President Dilma Rousseff Plays Hand Over Protests," BBC News: Latin America & Caribbean, Web. 25 June 2013. <http://www.bbc.co.uk/news/world-latin-america-23042841>
[11] "Brazil Protests Spread"`
[12] "Brazil Congress Rejects Controversial Amendment," BBC News: Latin America & Caribbean, Web. 26 June 2013. <http://www.bbc.co.uk/news/world-latin-america-23058386>
[13] Gary Duffey, "Brazil President Dilma Rousseff"
[14] "Brazil Senate toughens punishments for corruption," BBC News: Latin America & Caribbean, Web. 27 June 2013. <http://www.bbc.co.uk/news/world-latin-america-23081103>
[15] "Brazil Congressman Natan Donadon Jailed for Corruption," BBC News: Latin America & Caribbean, Web. 28 June 2013. <http://www.bbc.co.uk/news/world-latin-america-23107455>
[16] Julie Carneiro, "Analysis," BBC News: Latin America & Caribbean, Web. 18 June 2013 <http://www.bbc.co.uk/news/world-latin-america-22946736>
[17] Melissa Farley, "Myths and Facts about Trafficking for Legal and Illegal Prostitution," Web. March 2009. <http://www.prostitutionresearch.com/pdfs/Myths%20&%20Facts%20Legal%20&%20Illegal%20Prostitution%203-09.pdf>
[18] Fabiano Barretto, "Brazils Sex Tourism Boom," Global Garbage, 30 July 2010, <http://www.globalgarbage.org/turmapontocom/2011/01/06/brazils-sex-tourism-boom>