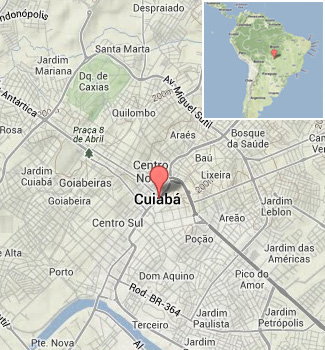 The city of Cuiabá in western Brazil is one of the twelve official host cities for the 2014 FIFA World Cup set to take place from June 12 to July 13, 2014. Founded in 1719 during the Brazilian Gold Rush, Cuiabá remained a quiet town until the 20th century when the federal government began constructing roads to connect Cuiabá and the surrounding region to its bordering states. As a result, the city experienced massive growth, from just under 60,000 inhabitants in 1960 to more than 500,000 people today.1
Nicknamed the "Green City" because of its proximity to three of Brazil's most pristine and beautiful natural wonders, Cuiabá continues to be a "privileged location for tourists."2 It comes as no surprise that it's among the cities chosen to host the 2014 FIFA World Cup games.
In spite of its natural beauty and tourist appeal, abolitionists around the world are concerned about Brazil's ability to ensure the protection of vulnerable women and children against sexual exploitation in areas around the host cities such as Cuiabá.
A history of sex tourism
Because of its strategic location near Pantanal and the Amazon, two of Brazil's most stunning wildlife areas and popular tourist destinations, Cuiabá has been affected by the country's growing sex tourism industry. While the local demand for prostitution is unknown, Cuiabá has a high occurrence of prostitution including child and adolescent prostitution because of its high profile status as a "place to visit."
An example of the impact of international visitors on the sex industry took place in 1999 when Enron International, an American energy company, began building a gas pipeline from Bolivia to Cuiabá. In addition to many claims of environmental abuse, the large influx of the company's male workers was blamed for driving up the demand for prostitution in and around the city.3 "Between 700 and 1,000 workers (mostly men) pour[ed] into small indigenous and campesino towns on weekends bringing prostitution," reported Amazon Watch, a nonprofit organization. With even larger crowds pouring in for the World Cup, abolitionists are concerned that similar social problems will occur.
"Every time there is a major sporting event, whether it is the Olympics, World Cup, or Super Bowl, the illegal multibillion dollar business in the trafficking (of) persons flourishes"
Melissa Beale, research associate for the Council on Hemispheric Affairs, explains that this is exactly the situation that cities like Cuiabá need to consider when planning to host the World Cup. "Every time there is a major sporting event, whether it is the Olympics, World Cup, or Super Bowl, the illegal multibillion dollar business in the trafficking (of) persons flourishes," said Beale.4
While there is plenty of speculation regarding what causes the rise in sex trafficking during sporting events, many are also wondering how Brazil—known in part for legalized prostitution and international sex tourism including child sex tourism—5 will prevent sexual exploitation and combat sex slavery during the 2014 World Cup.6
In part, the problem may be the cultural lens through which many Brazilians view the issue. For example, in 2009, two men who were tried by Brazil's Superior Court of Justice for child abuse after soliciting the services of three minor prostitutes were acquitted because, "the customers had used only occasionally the services of minor prostitutes."7
Another instance was the sudden disappearance of a 14-year-old girl from the streets of Cuiabá around the same time. After one week, the girl was able to escape. She returned home and told her family that she had been forced to work in a brothel and engage in sexual relations with men three times her age.8
If incidents like these are considered culturally acceptable, then Brazil is facing a tough battle regarding the rights and protection of women and children against sexual exploitation and sex slavery.
Sadly, these are not isolated instances. In fact, the President of the State Committee on the Fight Against Sex Abuse of Children and Teenagers, José Rodrigues Rocha Júnior, states that there are, on average, two new cases of child sex abuse occurring in Cuiabá every day.9
How Brazil is preparing to combat sex slavery in Cuiabá and other host cities
As the time for the World Cup approaches, some Brazilian officials have taken specific measures to combat these issues, but unfortunately, not all of their efforts have been effective.
An online campaign by the Ministry of Health called "I'm Happy Being a Prostitute" was recently dropped by the Brazilian government following harsh criticism. The campaign's aim was to reduce stigma against sex workers and educate the general public about sexually transmitted diseases, but in a country that anticipates increases in the sex tourism industry with the arrival of the World Cup,10 the poorly chosen words in the slogan do not define the message that many Brazilians want to be sending. "The role of the ministry is to have specific content to encourage prevention among sex workers, who are a very vulnerable group." said Health Minister Alexandre Padilha.11
Currently, the government is trying various ways to protect women and children who may be at risk during the World Cup. In Cuiabá, the Brazilian government has trained over 250 public security professionals, equipping them with "strategies and actions classes about sex tourism law enforcement, prevention, health and social assistance to victims."12 In total, Brazil hopes to train over 2,400 public security professionals in a variety of areas including combating sexual exploitation and preventing the trafficking of persons before the games in 2014.13
Other efforts to protect against these abuses during the World Cup include the program, "A Goal for the Rights of Children and Teenagers." This program will train employees in the tourism industry and police personnel to detect cases of sex slavery. Additionally, the anti-trafficking program will have a strong emphasis on educating teenagers who live in and around the host cities about the issue of sex slavery. The program will also educate young women about how to avoid being targeted and encourage alternative ways for earning money should they be enticed into the trade.14
Join us as we pray for the city of Cuiabá, Brazil
It is the hope of abolitionists worldwide that these efforts will be sufficient. However, as we've heard before from Melissa Farley, an expert in the areas of prostitution and sex trafficking, "Prostitution and sex trafficking are linked. Sex trafficking happens when and where there is a demand for prostitution and a context of impunity for its customers."15 Therefore, it is difficult to have faith that current efforts will be enough to protect vulnerable women and children from being sexually exploited or enslaved when an established legalized prostitution policy remains in place.
Yet, we choose to remain hopeful. Join us as we pray for legislators, event organizers, and others in the city of Cuiabá, Brazil and their efforts to equip key groups with the knowledge and the tools to protect at-risk women and children.