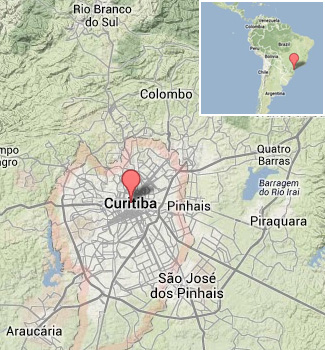 Curitiba, a host city for the 2014 World Cup, is a thriving metropolis of 1.8 million inhabitants[i] located in southeast Brazil, just below Sao Paulo. This inland city is known for their strategic urban planning, mainly its Bus Rapid Transit System. Designed to reduce traffic congestion and provide better air quality and quicker travel times focused on comfort and safety, this transit system has become a model for other cities around the world. Hailed as one of "the most innovative cities in the world"[ii] by the United Nations, Curitiba has demonstrated how to pioneer a thriving metropolis without harming the environment.
Curitiba is derived from the Tupi word for 'many pine seeds,' referring to the forests surrounding the city.[iii] In 1972, City Hall decided to preserve the 'green sea' rather than build on it. In addition to protecting the existing green area, planners designed parks and woods in the empty urban areas, rather than building land developments.[iv]
While urban planners focused on environmental preservation, city leaders also ramped up efforts in the 1970s to protect the rich cultural history of Curitiba. Theaters, museums, and conservatories are sprinkled throughout the city, many of them housed in the cities parks. In 2003, Curitiba was rewarded with the title "American Capital of Culture."[v]
This city balances success from conservation to industrialization. Among other Brazilian cities, Curitiba holds the fourth position in capitals ranking at 1.4% of economic contribution mainly through the services sector at 77% of the total GDP. With its infrastructure "implemented specifically for receiving tourists,"[vi] Curitiba is a beautiful place to work and play for visitors and residents alike.
Curitibanos genuinely appreciate all that their leaders have done to make the city an amalgamation of beauty and plenty. In a survey conducted in the 1990's, "99 percent of Curitibanos told pollsters that they were happy with their town; and 70 percent of the residents of Sao Paulo said they thought life would be better in Curitiba."[vii]
Idyllic as the city may appear, there is an undercurrent beneath the façade boasting of enslavement and degradation. While it may not be the center of Brazil's prostitution networking, it certainly gains much attention from those lurking in the shadows for illicit and unchecked sexual encounters. From massage parlors and brothels to street squares and strip clubs, Curitiba's exploitation of women and transgendered individuals is endless.
Because Curitiba doesn't have an infamous sex industry like Rio de Janeiro or Fortaleza, the majority of demand for sex comes from the locals. Even the city newspaper publishes ads selling women.[viii] Posters in online sex guides and forums advise prospective visitors on the best clubs and massage parlors. One user writes of an eager and willing bellman who was reported to have explained the workings of the room i.e. mini-bar, AC and then pulled "out a stack of photos of various [women] and says he can deliver any of them I want direct to the room for 170 reais ($85 US)."[ix]
Another aspect of the sex industry in many Brazilian cities, including Curitiba, is the use of rent-by-the-hour love motels. Popping up in the 1960s, these motels served as an alternative for unmarried people in a time when traditional laws dictated marriage certificates from couples at hotel check-in.[x] Now, these motels littering the landscape of Brazil have become synonymous with illicit sexual encounters: discrete hook-ups and paid encounters between a john and a prostituted woman. Everything about the hotels provides privacy, from the towering walls and kiosk check-in, to the covered parking lots and high shrubbery. The dead giveaway for what lies behind the closed doors are audacious names, such as "Aphrodite" and "Unlimited Passion." [xi] Brazilian love motels vary from seedy, one-star inns to five-star establishments, decorated and filled to the utmost degree with sex paraphernalia. This is the "perfect" setting for illicit sex, with a high-turnover rate to keep revenue generated for owners.
The sex industry flourishes in Curitiba, fueled by the locals' approval for commercial sex and assistance to anyone seeking it. Like other Brazilian cities, the approaching World Cup games is expected to increase the sex trade, as wealthy tourists take a break from everyday reality and seek recreation. Join abolitionists across the world as we pray for divine intervention, protection, and rescue for young women and children who have been caught up in the sex industry.
---

[i] "City Profile," Prefeitura Municipal de Curitiba, http://www.curitiba.pr.gov.br/idioma/ingles/
[ii] "Curitiba, Brazil," Embarq, http://www.embarq.org/en/city/Curitiba-brazil
[iii] Sebastien, "Curitiba," Worldcup2day, February 16, 2013 http://www.worldcup2day.com/world-cup-2014/cities/137-curitiba
[iv] "History of the City," Prefeitura Municipal de Curitiba, http://www.curitiba.pr.gov.br/idioma/ingles/historia
[v] "Ibid."
[vi] "City Profile"
[vii] McKibben, B. Hope, human and wild: True stories of living lightly on the earth (Saint Paul, MN: Hungry Mind Press, 1995).
[viii] "Curitiba," Theinternationalsexguide
[ix] "Curitiba," CityXGuide Forum
[x] "Brazil Motels: The Local Version of Love Hotels," About.com
[xi] "What Brazil's 'No Tell' Hotels Say About Brazilian Society," Business Insider, http://www.businessinsider.com/what-brazils-no-tell-hotels-say-about-brazilian-society-2011-1