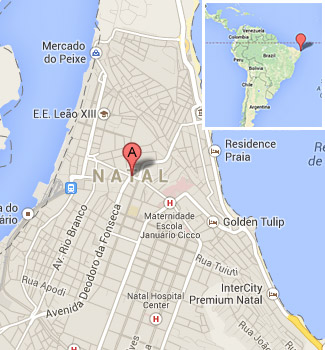 Located in the northeastern state of Rio Grande do Norte, Natal has nearly one million inhabitants. Natal's bounty of pristine beaches, year-round sun, and tropical temperatures make it a popular destination for international tourists. In addition, the city's northeast location is easily accessible from Europe. It's no surprise that so many vacationers make their way to Natal's spectacular beaches every year.1
Natal is also home to Rio Grande do Norte's top three soccer teams, making it an obvious choice to serve as a host city during this summer's World Cup Games.2 Since the announcement, elaborate plans have been established to improve Natal's infrastructure, create more jobs, and construct a new, state-of-the-art stadium. In spite of these optimistic plans, few goals have actually been met. With the deadline for World Cup preparations looming, Natalians recently took to the streets to express their anger over the cost of the new stadium and the fact that few benefits have trickled down to Natalians in the form of jobs and new opportunities.3
Exploitation is already occurring in host cities
While Natalians and FIFA officials are frustrated over the failed budget and missed deadlines4, Abolitionists are concerned about the vulnerable women and children already being exploited and trafficked into sex slavery in Natal and other host cities. In a nation with limited policies in place to protect these vulnerable populations and a history of tolerance in regards to sex tourism—commercial sex is legal in Brazil for all parties5—it is imperative that we join together in prayer and action against this horrific injustice.
Numerous reports and personal accounts of exploited women and children in and around the host cities have surfaced in recent months, particularly in Natal's northeast region. According to Amazon Watch, Brazil's Congressional Investigative Commission on Human Trafficking was alerted to cases of human trafficking occurring at the stadium construction sites in the host cities. Simply put, the demand for prostitution rose, and human traffickers responded by providing a supply.6 In these situations, women and children who are susceptible to exploitation because of poverty and lack of opportunities are seduced by gangs and traffickers and moved to the host cities to "entertain" crews of workers.7
Just two months ago, an investigation revealed that hundreds of disadvantaged children, as young as eleven and twelve, were being sold to construction workers in another host city in the same region as Natal. The investigation provided grave reports of children being snatched up by human traffickers in rural towns and bused to host cities such as Sao Paulo to satisfy the growing demand for prostitution and child prostitution.8
Child prostitution is a real concern
14-year-old Poliana, a victim of sex trafficking, said she was brought to a fellow host city, Sao Paulo, to "entertain" the workers building the city's extravagant $300 million stadium. Poliana said she was lured into prostitution after her mother died, and she "didn't know what else to do." Now in Sao Paulo, Poliana's body is sold to dozens of construction workers a day in her small room in a nearby favela, or slum, for as little as $4.00.9
Poliana's horrific reality is a "nightmare repeated across Brazil," said Matt Roper from the Mirror News, authors of the recent investigation. "In a recent survey of 300 workers on World Cup projects, 57 percent said they knew of underage prostitution close to the sites. Astonishingly, a quarter of the men interviewed admitted they had paid for sex with children on one or more occasions."10
The Brazilian government says they are making many attempts to address the problem of human trafficking around construction sites and tourist destinations though it proves to be a larger problem than they can or are willing to handle.11 Because of this, praying for these host cities has never been more important.
Join us in prayer
Please join us in praying for the city of Natal. We invite you to also visit our Liberdade Initiative page to learn more about the trafficking crisis in Brazil. See how we are preparing to fight this injustice during the 2014 World Cup Games and how you can support our efforts.
Footnotes
[1] "Natal: a Host City for the 2014 FIFA World Cup Brazil," FIFA, Web. 2013. http://www.fifa.com/worldcup/destination/cities/city=21518/
[2] Ibid
[3] Rob Walker, "Brazil World Cup Host City Natal Seethes at Cost," The Guardian, Web. 28 November 2013. http://www.theguardian.com/world/2013/nov/28/brazil-world-cup-natal-cost
[4] Ibid
[5] Fabiano Barretto, "Brazil's Sex Tourism Boom," Global Garbage, Web. 30 July 2010. <http://www.globalgarbage.org/turmapontocom/2011/01/06/brazils-sex-tourism-boom
[6] Zachary Hurwitz, "Sex Trafficking Ringmaster Busted on Belo Monte," Amazon Watch, Web. 3 September 2013. http://amazonwatch.org/news/2013/0903-sex-trafficking-ringmaster-busted-on-belo-monte
[7] Matt Roper, "Child sex shame of Brazil: Prostitute Aged 14 Used by Workers at England World Cup Venue," Daily Mirror, Web. 8 December 2013. http://www.mirror.co.uk/news/world-news/england-world-cup-venue-workers-2904052#ixzz2s3zhl9Zj
[8] Ibid
[9] Ibid
[10] Ibid
[11] Zachary Hurwitz, "Sex Trafficking Ringmaster Busted on Belo Monte," Amazon Watch, Web. 3 September 2013. http://amazonwatch.org/news/2013/0903-sex-trafficking-ringmaster-busted-on-belo-monte