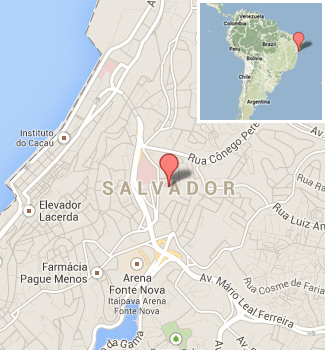 The Renaissance-style city of Salvador, Brazil can be recognized by its colorful, stucco houses. Established in the 16th century, Salvador was the first capital of Brazil and is also the site of the first slave market of the New World. In more than three centuries, an estimated four million enslaved Africans were transported to Brazil to work the sugar plantations. Two million of them ended up in Salvador and the surrounding Bahia State. Often referred to as the 'Black Rome' or 'Black Mecca,' the region was defined by the massive influx of enslaved Africans that ultimately lead to the blended Afro-Brazilian culture seen in Salvador today.1
Salvador is segregated into two distinct sections. The Upper City, or Cidade Alta, houses the touristic historical center and is more privileged. The Lower City, or Cidade Baixa, is highly impoverished. Tourists are generally isolated from the Lower City and are tucked away at luxurious resorts that line the coast. However, tourists desiring to take part in Brazil's booming sex tourism industry do not have to travel far to find what they are looking for.2
While the Northeast region of Brazil is considered the nation's most underdeveloped area, its tourism industry is developing faster than any other region in Brazil. Salvador is the largest tourist destination in the Northeast and the third largest in the nation. With crowds of tourists pouring into Salvador every year and Brazil's lax anti-trafficking and commercial sex laws, it is no surprise that the sex tourism industry has taken root and continues to flourish.3
Erica Lorraine Williams, Ph.D., assistant professor with the Department of Sociology and Anthropology at Spelman College in Atlanta, GA, attributes the thriving sex tourism industry in Salvador partially to the advertisements used to attract tourists. Williams says that the tourism advertisements portray Salvador as, "an exotic paradise of parties, pristine beaches, and erotic possibilities." Williams continues, "These sexualized images [of women] are offered to entice the potential tourist and offer an idea of what she/he can expect to see/hear/taste/touch in Bahia."4
Inequality fuels sex tourism industry and attracts traffickers
According to government studies, the number of trafficking reports in Brazil increased 1,500% in 2013.5 While there remains some confusion about whether this statistic truly represents the increase in human trafficking or rather simply demonstrates an increased awareness of the crime among Brazilians, the results remain staggering.6
Insight Crime reports that the increased human trafficking in Brazil is a direct result of grave inequality and impoverished conditions. "Brazil's vast economic inequalities provide the perfect conditions for human trafficking to flourish with a steady stream of desperate people vulnerable to exploitation and no shortage of wealthy people to pay for them."7
In Salvador these inequities are even more pronounced. In 2010, the national unemployment rate in Brazil was 7%. In Salvador, the unemployment rate was even higher at 12%.8 Williams adds that black Brazilians in Salvador, "suffer from appalling conditions of inequality."9 Because of these pronounced inequalities, it's not surprising that many vulnerable women and children are coerced into the sex trade every year.
What does this mean for Salvador with the upcoming World Cup Games?
As one of the top tourist destinations and sites for the 2014 World Cup Games, Salvador is currently among the most vulnerable cities in Brazil. As Brazil continues to rev up preparations for the games and construct state-of-the-art stadiums in its host cities, stories of exploitation continue to surface.
"We're worried sexual exploitation will increase in the host cities and around them." says Joseleno Vieira dos Santos, coordinator of Brazil's Human Rights Secretariat, who oversees the nation's program to combat the sexual exploitation of children.10
Of particular concern is the protection of children during the games. With a fivefold increase in the number of children exploited in the sex trade since 2001, increased tourism will only exacerbate the problem.
Join us in prayer
An expected 600,000 international fans will flood the host cities in Brazil this summer as the country hosts one of the largest international sporting events in the world. It is imperative that the Brazilian government focuses on protecting and preventing the exploitation of vulnerable women and children during these games.11 We urge you to join us in the coming months as we pray diligently and deliberately for the city of Salvador and the nation of Brazil.
We invite you to visit our Liberdade Initiative page to learn more about the trafficking crisis in Brazil. See how we are preparing to fight this injustice during the 2014 World Cup Games and how you can support our efforts.
Footnotes
1UNESCO World Heritage Centre, "Historic Centre of Salvador de Bahia." UNESCO, Web. 2014. http://whc.unesco.org/en/list/309.
2Erica Williams, "Sex work and exclusion in the tourist districts of Salvador, Brazil." Gender, Place & Culture: A Journal of Feminist Geography. Web. 07 May 2013. http://dx.doi.org/10.1080/0966369X.2013.786685
3Ibid
4Ibid
5Miriam Wells, "Reports of Human Trafficking Rise Dramatically in Brazil." InSight Crime. Web. 10 October 2013.
6Ibid
7Miriam Wells, "Reports of Human Trafficking Rise Dramatically in Brazil." InSight Crime. Web. 10 October 2013.
8 Erica Williams, "Sex work and exclusion in the tourist districts of Salvador, Brazil." Gender, Place & Culture: A Journal of Feminist Geography. Web. 07 May 2013. http://dx.doi.org/10.1080/0966369X.2013.786685
9Ibid
10Adriana Brasileiro, "Brazil's Child Sex Trade Soars as 2014 World Cup Nears." The Guardian. Web. 9 December 2013. http://www.theguardian.com/global-development/2013/dec/09/brazil-child-sex-trade-world-cup-2014-prostitution?CMP=fb_gu.
11Ibid