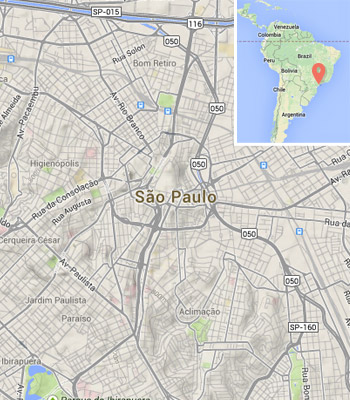 São Paulo is the largest city in Brazil and in all of South America. Sprawling over 580 square miles, the city is home to more than 11 million people. São Paulo is abuzz with activity, day and night, and it attracts a consistent flow of visitors, but this summer tourism will escalate. On June 12, the FIFA World Cup will begin in São Paulo's Itaquerão Stadium. The arrival of the games represents an exciting time for the residents of São Paulo. But along with the glamour and excitement, the event is expected to give rise to a dark reality. Historically, international sporting events, like the World Cup, trigger a spike in sex tourism. The outlook for this year's event is no different. In fact, in a country like Brazil–where prostitution and exploitation are accepted as a cultural norm–dramatic increases in sex tourism are all but guaranteed.
Mega Brothels
Brazil is seen by many, even within her own borders, as a land of sexual exploration. After living under a dictatorship until the mid-1980s, numerous Brazilians have tossed aside restraint and are pursuing a more liberal lifestyle. In the past five years, São Paulo has become home to about twenty "luxury houses," a euphemistic term for large, upscale brothels. These newer brothels are designed to compete with nightclubs and hotel bars by catering to young, wealthy clients. In contrast to the backstreet brothels and rundown rooms in many of Brazil's red-light districts, the new brothels include restaurants, live bands, and luxurious accommodations. Regardless of the surroundings, exploitation runs rampant. In one of the main brothels, as many as 300 young women are being exploited at a time.1 In the brothel's basement, 100 girls live in tiny rooms with two bunks each. They work eight hour shifts every day. The presentation of these brothels as nightclubs for Brazil's socialites adds a grim dimension to Brazil's cultural acceptance of the sex trade. Though brothels are technically illegal in Brazil,2 these venues go unchecked by law enforcement, and the coercion continues.
Child Prostitution
Following the announcement that Brazil would host the World Cup, hundreds of laborers arrived in São Paulo to begin work on a $360 million soccer stadium. With the increase in employment opportunities came an explosion of child prostitution. To satisfy increased demand from stadium workers, child sex gangs traveled to some of Brazil's poorest villages where they kidnapped or bought young girls from impoverished families. On São Paulo's streets, pimps and drug gangs often recruit girls as young as 11 years old, addict them to crack, and then send them out onto the streets to be used as pawns in the sex trade. Tragically, there is no shortage of men looking to pay for sex with minors. Workers from the construction sites provide constant demand, often hiring very young girls during lunch breaks. This demand is expected to increase as tourists by the thousands arrive in time for the World Cup.3
While Brazilian authorities have been alerted to the exploitation occurring on the streets of São Paulo and the other World Cup host cities, action has been limited. A proactive approach is needed to protect Brazil's vulnerable children. You can make a difference in the fight for justice. Pray with us as Liberdade, our initiative to bring freedom in Brazil, reaches full steam in June. Pray as we prepare to launch 24/7 prayer rooms in the host cities. Consider supporting our outreach and intervention efforts with a donation to Exodus Cry. Help us shine a revealing-light on the truth of modern day slavery by spreading awareness. Together, we can declare freedom.