As of January 1, 2023, a 9-year-old boy in Louisiana who found himself on Pornhub would have been met with this notification.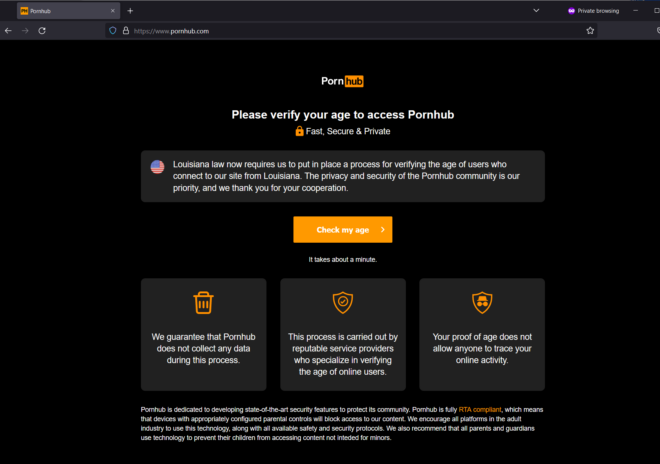 In 49 other states, children and young teens have unrestricted access to the most vile and disturbing porn imaginable. But thanks to Louisiana's HB 142, residents of the state must enter their government ID to verify that they are 18 or older on any website whose content contains more than 33.3% of pornographic material.
This momentous step has sparked a wave of other states creating copycat or very similar laws in an effort to protect children from online exposure to porn. Since the start of 2023, 17 states have proposed or passed legislation requiring porn sites to verify the age of consumers.
We've received countless stories from people whose underage exposure and unlimited access to porn deeply and traumatically affected them.
One man named Jonathan* shared, "My first serious exposure to porn was around 11 years old. It started off as innocent curiosity and quickly spiraled into something that really sucked me in. I now see myself as a monster who can't help but devour the pixelated bodies of women. To this day I can't look a girl in the eyes. Holding hands and kissing scare me to death because I fear to awaken the sexual beast inside me. Porn taught me to see sex as revolting, dirty and exploitative. I can only see sex as harmful now."
Exodus Cry has been campaigning for age verification since 2021 as a part of its Protect Children Not Porn campaign. We've been calling on Congress to require age verification with government ID, via a secure third-party system, on all sites hosting pornographic content. In June of 2022, we took our petition to Congress and hosted a symposium on online safety for children, on Capitol Hill, for members of Congress and their staff.
Now, less than a year later, we are beginning to see legislators take the safety of children online seriously. Pornography has been declared a public health crisis in more than 15 states, as porn consumption is associated with stunted brain development, suicidal thoughts, and a higher likelihood of either sexually assaulting another person or becoming a victim of sexual assault.
Meanwhile, France has announced that they will use a code system to verify the ages of those trying to access pornography online after more than a year of fighting to protect kids from explicit material.
Pornography is an invasive weed that crowds the minds of children, holding their innocence captive and exposing them to the most violent, graphic and hardcore sex acts available on the internet. For many children, exposure to pornography at a young age leads to an addiction lasting many years, some even their whole lives.
Over the past five years, the average age at which children are first exposed to sexually explicit content and online sexual harms has continued to drop. The average age of exposure to porn is now, conservatively, between ages 7 and 13.
According to a survey by the British Board of Film Classification (BBFC), 62% of 11- to 13-year-olds described their first viewing of pornography as mostly "unintentional." If there were age verification requirements on all sites that host pornography, the number of kids exposed to porn at a young age would drop significantly.
Louisiana's new age verification bill paves the way for a whole new level of accountability for porn sites and sets up imperative protective measures for children accessing the internet. Legislative age verification on porn sites stops childhood exposure to pornography at the source.
Louisiana's Age Verification Law: HB 142
In 2022, Louisiana passed a law requiring the use of age verification on websites that contain a "substantial portion" (33.33%) of pornographic or adult content. Websites must use a valid driver's license, state ID or any "commercially reasonable method that relies on public or private transactional data" to confirm that a user is at least 18 years old. If a website with over a third of pornographic content does not have age verification, the law permits residents to sue the website and its corporation.
The bill's sponsor, Laurie Schlegel, is a licensed professional counselor and a certified sex addiction therapist who specializes in treating people who struggle with pornography and sex addiction.
She told WAFB9 TV, "pornography is destroying our children and they're getting unlimited access to it on the internet and so if the pornography companies aren't going to be responsible… we need to go ahead and hold them accountable."
Schlegal was inspired to introduce the bill after hearing Billie Eilish talk with Howard Stern about her experience with porn. Eilish started watching porn at 11 years old and shared that it deeply affected her brain and relationships.
RELATED: Billie Eilish Says Violent Porn "Destroyed My Brain" After Watching at Age 11
While porn industry advocates are up in arms about the law, Schlegel made it clear that she's not trying to limit porn that adults can access. She shared, "This bill is strictly about protecting children. It's going to be up to the pornography companies to comply and, obviously, how people will hold them accountable. If children are getting access to it…they can sue."

Louisiana is the first state to enact such legislation but in doing so, they have inspired many other states to follow suit. Arkansas, Virginia, Florida, South Dakota, West Virginia, Kansas and Mississippi have introduced legislation virtually identical to Louisiana. Oregon, Texas, South Carolina, Minnesota, Utah, Oklahoma, Missouri and Arizona have either introduced or plan to introduce other age-verification legislation.
Age Verification at the Federal Level
U.S. Senator Mike Lee, R-Utah, introduced similar legislation called The Shielding Children's Retinas from Egregious Exposure on the Net (SCREEN) Act. The act asks that the Federal Communications Commission (FCC) enforce regulations for commercial porn sites to prevent children from accessing the content.
According to the proposed legislation, websites can choose their own means of age verification so long as it meets the FCC's standards. Other stipulations of the bill call for the FCC to give companies proper warning and ample opportunity to fix violations.
Senator Lee said, "Every day, we're learning more about the negative psychological effects pornography has on minors… I believe the government must act quickly to enact protections that have a real chance of surviving First Amendment scrutiny. We require age verification at brick-and-mortar shops. Why shouldn't we require it online?"
Age Verification Laws in Other Countries
France
France is set to announce new measures this week to prevent minors from accessing porn websites, in the latest round of a years-long struggle to protect children from explicit material. French President Emmanuel Macron pledged to protect children against adult content online during his re-election campaign last year.
Under the new proposal, people wanting to access explicit material will need to download a phone application that provides them with a digital certificate and code. The code will be needed to access a porn website under a system "which will work a bit like the checks from your bank when you buy something online."
In November, President Macron launched the Children Online Protection Laboratory, an initiative that aims to bring together industry giants and researchers to look for ways to shield minors online.
In September last year, a report entitled "Hell Behind the Scenes" by French senators concluded that there was "massive, ordinary and toxic" viewing of porn by children.
The report found that two thirds of children aged 15 or less had seen pornographic content.
The United Kingdom
An age verification policy was first proposed in the United Kingdom during the 2015 general election. However, the law took several years to develop and its implementation date was repeatedly delayed due to privacy concerns and difficulty implementing. Privacy campaigners continued to raise concerns about data security with the verification processes.
The United Kingdom dropped the plans in 2019 but it was picked up once again in 2021 as a part of the UK's Online Safety Bill. The Online Safety Bill is a new legal duty requiring commercial providers of pornography and the sites that allow user-generated pornographic content to have robust age checks in place to ensure their users are 18 years old or over. This is not limited to porn websites and includes any website that allows adult content.
The Office of Communications (Ofcom), which already regulates British TV, radio and video on demand, will also regulate the new online safety regime created by the Online Safety Bill.
RELATED: Age Verification Is the Most Effective Way to Protect Children from Porn
There is no mandated system or particular third-party service that sites must use to verify the ages of visitors. However, if sites fail to act, Ofcom will be able to fine them up to 10 percent of their annual global turnover or block their site in the UK. The measure would also hold bosses of such sites criminally liable if they fail to cooperate. Internet Service Providers (ISPs) and mobile network providers may also block online pornography sites that do not comply.
The Porn Industry's Response to Age Verification Laws
Instead of taking responsibility to protect kids from their content, porn sites have shown a pattern of placing responsibility on anyone but themselves. These age verification laws are throwing a major wrench in their profit making machine. And they are very mad about it.
Why would the porn industry vehemently oppose protecting children online? It's because they know that kids and young teens are some of their best customers. Research from security technology company, Bitdefender, suggests that children under the age of 10 now account for 22% of underage online porn consumption, while 10-14 year-olds make up 36% of minor consumers. And porn companies make money off the web traffic regardless of the age of the site visitors.
RELATED: Traffickinghub: A Timeline of Pornhub's Rapid Decline
The Free Speech Coalition, the porn industry's advocacy arm, has been enraged by the new laws, calling them "blatantly unconstitutional and dangerous" all over Twitter. They have even created a whole page on their website dedicated to tracking age verification policy in the United States.
But we invite them to tell us how requiring age verification on porn sites is dangerous. Because to the general public, their anger and frustration with the law seems outrageous, as does the fact that they are opposing protecting children from hardcore pornography in the first place.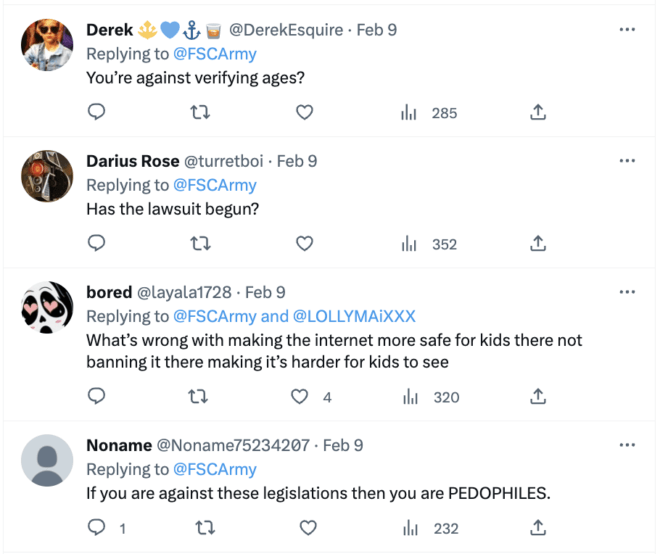 But honestly, the porn industry's response is not all that shocking. During the Traffickinghub campaign, we saw that it takes legal action or extreme external pressure for them to regulate their actions.
Age Verification Via a Third-Party with Government ID
Legislators have the power to put a stop to childhood pornography exposure online by enacting age verification policies. We applaud the states that have already begun doing so, and we earnestly urge other states to follow. Age verification is the only protective measure that cuts off open porn access at its source. Other measures simply fall short of the widespread protection that is desperately needed in a culture where access to the internet is always available and rarely regulated.