The government of Thailand has officially shut down Pornhub, the world's largest porn site, in their country.
Earlier this week, the country's digital minister, Puttipong Punnakanta, announced that Pornhub had been blocked for violating the country's Computer Crimes Act of 2007. All over the country on Monday, site visitors were greeted with a notice of suspension noting the violation from Thailand's Ministry of Digital Economy and Society.1
In explaining the decision, the Minister pointed to other countries that have banned the website and to organized groups (e.g. Traffickinghub!) asking for it to be shut down because the site supports human trafficking and demeans women.2
Since the action by the government to shut down Pornhub in the country, our #Traffickinghub campaign has gained significant traction in Thai news outlets, highlighting the rampant exploitation being hosted and profited on by Pornhub. Thailand's public news broadcast, Thai PBS, covered the campaign extensively, and aired clips of the Traffickinghub animated campaign video, which as of today has over 33 million views globally.3
It seems apparent that the movement reached the desks of those in power, and likely played a role in influencing their decision. As of today, the #Traffickinghub campaign has gained the support of over 2.1 million people, from 192 different countries.
This move by Thailand is significant for a few reasons. First, Thailand is a lucrative and important market for Pornhub as Bangkok is Pornhub's 10th largest customer base. That is remarkable given the list also includes major cities like New York City, Paris, London, and Los Angeles. According to Pornhub, Thai users spend more time at the site than any other place in the world.45 This, of course, is a major income stream for the company.
Thailand is a lucrative and important market for Pornhub as Bangkok is Pornhub's 10th largest customer base.
Secondly, Thailand is one of the largest exporters of pornographic content in the world, and is well known as an global epicenter of sex trafficking and child sex abuse. The documentary Nefarious: Merchant of Souls created by Exodus Cry, highlights the infamous red light district in Bangkok as a hotspot for trafficking, child exploitation, and abuse.
As the film explains, many of these exploited girls come from rural areas of the country and migrate to cities to help support their families. The Thai government doesn't offer these girls citizenship, making it very difficult for them to attain safe and gainful employment. As a result, they must settle for massage parlors, karaoke clubs, and bars where they are often coerced into prostitution. As you can imagine, this is not a protected, regulated industry, but often an "anything goes" arrangement that puts the girls at great risk.
Watch Our Award-Winning Human Trafficking Documentary for Free Here
Pornhub leans heavily on Thailand and other Asian countries for content. In fact one of Pornhub's most popular content partner channels is called "Exploited Teens Asia," which pulls much of its content from the country. Laila Mickelwait tweeted about one such video, entitled "thai street teen f***ed and facialized for $5." The horrific video featured an impoverished, deaf girl who was, by legal definition, being trafficked. Sadly, the video brought Pornhub a tidy profit, as it was streamed over 1.3 million times.6
Pornhub is profiting right now from a Thai teenager who is clearly suffering from poverty & is hearing disabled. The elements present in this video are what internationally define human trafficking. It is the "exploitation of vulnerability"—textbook trafficking. #Traffickinghub pic.twitter.com/u0f2we274u

— Laila Mickelwait (@LailaMickelwait) April 22, 2020
By shutting down the site, one of Pornhub's largest content sources has essentially been cut off…
It is not uncommon to see videos like "tiny petite Thai teen" on Pornhub, featuring young Thai girls being exploited for profit. In fact, "Thai teen" and "Bangkok thai teen" are popular search terms on the site, which Pornhub leverages. Up until now, Pornhub has had a profitable relationship with Bangkok's traffickers and this has enabled horrific human rights violations like rape and sexual exploitation to go viral.
RELATED: New Canadian Bill Could Hold Pornhub Accountable for Harming Kids
By shutting down the site, one of Pornhub's largest content sources has essentially been cut off—and not just Pornhub, as content from the country has been exported all over the world. It's a strong message from a government that has often been accused of enabling the notorious sex trafficking trade that is prevalent in their country. According to Nefarious, the government once sponsored an ad that read "the only fruit in Thailand more delicious than Durian, is its young women."7
The move has garnered both support and resistance from the public. Some claimed the government was attempting to censor content and restrict rights. However, Punnakanta defended the move explaining the ban was due to consistent complaints from concerned parents, monks, teachers, and leaders. Punnakanta also said that the move was about upholding the values of Thai society.8 He added that complaints and protests from those against the decision would not change the fact that the Ministry was enforcing the law.
As Thai Pornhub supporters have been protesting, it's been reported that Thailand has seen a surge of searches for VPNs (virtual private networks) in an apparent attempt to circumvent the ban.9 However, the ban will certainly have a massive impact on Pornhub's "business" and on a user's ability to upload new content.
Thailand's strong and decisive action against Pornhub is the right one. Any website that hosts and profits from sex crimes should not be allowed to continue its operations. Countries have a crucial responsibility to protect the rights of those being victimized by Pornhub and by all other sites engaged in the same criminal behavior. This ban is a big win for the Traffickinghub movement and we expect many more countries to follow suit as they are confronted with the horrific crimes that Pornhub consistently propagates and profits from.
____________
One of the greatest ways you can make an impact is by joining Exodus Cry's dedicated community of Premium Partners who are giving $10/month, or more, to sustain this long fight till Pornhub is brought to justice. Will you join Exodus Cry? Start here.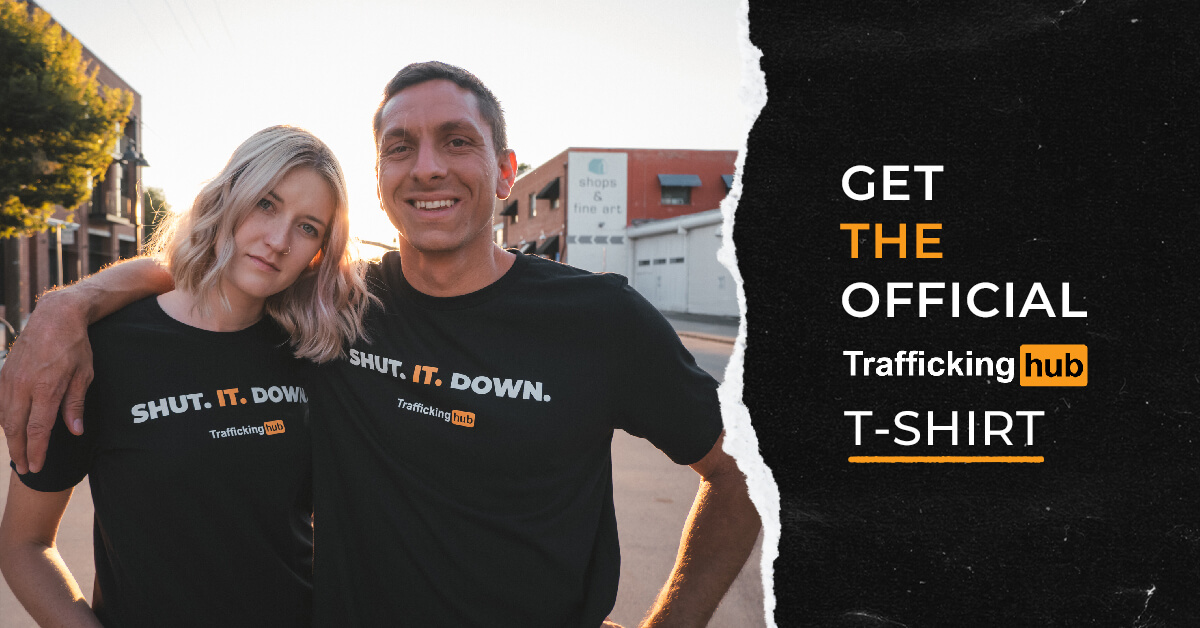 Footnotes
1. https://thepattayanews.com/2020/11/03/thai-government-appears-to-block-popular-adult-website-pornhub/
2. https://thepattayanews.com/2020/11/03/minister-of-digital-economy-and-society-explains-why-pornhub-has-been-blocked-in-thailand/
3. https://m.youtube.com/watch?feature=youtu.be&v=qefpjrGtkGc
4. https://www.cnn.com/2020/11/03/asia/thailand-porn-ban-protest-scli-intl/index.html
5. https://thepattayanews.com/2020/11/03/thai-government-appears-to-block-popular-adult-website-pornhub/
6. https://twitter.com/lailamickelwait/status/1253091647044255744?lang=en
7. https://www.youtube.com/watch?v=iIJ9dxtiv3g
8. https://thepattayanews.com/2020/11/03/minister-of-digital-economy-and-society-explains-why-pornhub-has-been-blocked-in-thailand/
9. https://www.cnn.com/2020/11/03/asia/thailand-porn-ban-protest-scli-intl/index.html