*Trigger warning: This blog contains disturbing written references to child sexual abuse.
We need to talk about the phenomenon of "incest porn." The name alone is enough to make a person nauseous, and yet there are millions of people that daily seek out this content, which is served up by the mainstream porn industry.
You see, there's a theme in the creation of pornography to take things that in real life are the most debased, traumatic, and criminal scenarios, and fetishize them to be produced for the consumption of the masses. "Incest" is a popular porn sub-genre that follows this theme. It's built on the fantasy of all varieties of incestuous and abusive sexual scenarios including scenes tagged mother/daughter, father/daughter, father/son, mother/son, sister/sister… and the list continues.
Producers have tried to make it slightly more palatable by now using the word "step" before any of the roles just mentioned, but porn titles like "Teen Stepdaughter F**ks Stepdad" point to how disturbing this category truly still is. Whether an actor is pretending to be a real or step child makes no difference—this is a criminal fantasy. And sadly, it's a fantasy that reflects all too common real life sexual abuse scenarios.
A search of "step porn" on Google yields over 2 billion search results and the third largest channel on Pornhub, one of the world's biggest porn sites, is an incest-themed channel.
Interview With a Porn Actress
In the first episode of our new documentary miniseries, Beyond Fantasy, called "Barely Legal," we interview Nina Hartley, a 30-year porn veteran, spokesperson, and industry-celebrated advocate. Nina has performed in over 1000 pornographic films, including incest-themed videos. Her interview speaks to the wildly blurred ethical lines being arbitrarily drawn by performers and producers, ultimately pointing to the key driver behind the production of incest porn—money.
Here's a snapshot of the tense conversation in the film between Nina and Exodus Cry's CEO and director of the Beyond Fantasy series, Benjamin Nolot:
— — —
Nina: I've always known that everything I do on camera is being watched by people at home. Media does affect us…The rule I tell people is, if you don't do it at home for free, don't do it on camera for money. And very, very concretely and with deliberate intent, I was always role modeling good sexual behavior on women.
Benji: A movie you made this last year called "Seduced by Mommy"… I'm wondering, what is the message behind that film?
Nina: Um, the quasi incest porn is a sub-genre, it's a sub-fetish.
Benji: In the film, you say to, who is your pseudo daughter, "Don't worry, I won't tell anybody"… Which sounds [like] textbook pedophile type activity. And again, I'm putting the question to you because I'm concerned about the message that sends, thinking of pornography that would promote a fantasy of having sex with your child.
Nina: [long pause] I honestly don't remember the scene although I don't doubt that I made it. But I think it also skeeves me out enough that I don't… I won't do that again. I won't do any of the mommy porn cause I don't like it. That's one taboo I don't share. I don't have a fantasy of it. It didn't happen to me.

Benji: Going back to the point of the message, because sexual abuse is such a big problem, and because it does ruin so many people's lives, maybe that's not the fantasy we want to be selling.
Nina: It might not be the fantasy we want to be selling but clearly someone's buying it… so again, if someone's gonna buy it, someone's gonna make it.
— — —
Nina appeared in another incest-themed film after the interview.
The Real World Effects of Incest-Themed Porn
One teenage girl discovered her father googling "real" "homemade" "teen" "rape" & "father daughter" incest abuse videos and took to social media to share his search history publicly.
Below are some of the searches: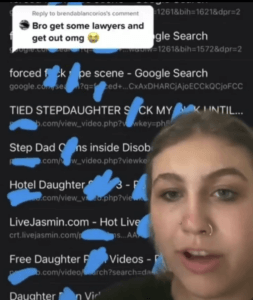 As heart-breaking and psychologically damaging as it is to find your father searching for "daughter" porn, this is sadly not an isolated incident. We've heard these stories over and over — children who have been traumatized by finding their parent's disturbing porn search history. And alongside this, there are also hoards of sexual abuse situations being informed by this type of abuse porn. We just had someone share on social media with us: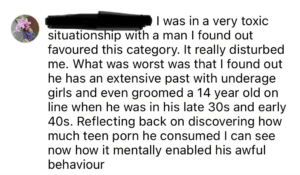 One in 5 girls under the of 18 are victims of sexual abuse and 9 times out of 10, the abuse comes from someone they know—often these are incestuous scenarios.
Incest porn regularly overlaps with the extremely popular and equally as troubling "teen porn" genre. Whenever we talk about incest or barely legal porn, we often hear the argument to let consensual adults do what they want—"it's a fetish, let it go." Here's a recent example in response to our YouTube release of "Barely Legal":

Arguments like this fail to address the massive number of children who are real victims of sexual abuse. Incestuous and underage fantasy porn is being fed to millions of people (including children) every day, and are very clearly creating an appetite for criminal sexual behavior.
RELATED: 3 Reasons to End Teen Porn
Just in first half of 2022 alone, in the US, at least 181 K-12 educators were charged with child sex crimes, many cases including child sexual abuse material ("child porn").
Child on child sexual abuse is also extremely common.
RELATED: 6 Times Porn Led to Child-on-Child Sexual Abuse
A 14-year-old boy was arrested this year for murdering and raping his 10-year-old cousin, Lilly, in Wisconsin. In the horrific case, the boy strangled his cousin to the point of death and then sexually assaulted her, claiming that his intent to rape and kill her was fully pre-meditated and planned.

In a key addition to the story, the boy's father was later revealed to be a convicted pedophile who had scores of child sexual abuse material (CSAM or "child porn") on his computer and phone.
A sexual assault nurse recently shared, at the symposium we hosted for lawmakers in Washington, D.C., about a very tragic child-on-child sexual abuse scenario she dealt with. She described it as being a scene straight out of porn.
View this post on Instagram
Our point is, porn is shaping the sexual behavior of an entire generation. Porn consumers worldwide are pleasuring themselves on a steady diet of child abuse and incest, and feeding their mind with the desire to experience this fantasy in real life.
A longitudinal study found that 10-15 year-olds consuming violent pornography are five times more likely to be sexually aggressive than non-viewers of violent porn.
END TEEN PORN: Raise the Age of Entry Into Porn from 18 to 21
Twenty former porn performers are calling on all producers, directors, and agents in the porn industry to stop recruiting impressionable teenagers. In their open letter, published by Exodus Cry, they're asking the porn industry to raise the performing age from 18 to 21. We are urging people to sign this petition online in support of the letter.
Will you sign the petition to #ENDTEENPORN, calling for the industry to raise the age of entry into porn to 21?
Read the open letter and sign the petition.
Watch Beyond Fantasy: "Barely Legal" for free on YouTube.
*Due to the nature of the topic, viewer discretion is strongly advised.