One million.
There's something about that number that carries a striking power—the kind you feel in your gut. It represents something massive. Something that cannot be ignored. Something that demands a response.
This week, we celebrate the milestone of reaching one million signatures on our petition "Shut Down Pornhub and Hold Its Executives Accountable for Aiding Trafficking."
To the best of our knowledge, this is the largest anti-trafficking petition ever—and it's aimed at the world's largest porn site.
For anyone who cares about the global fight against sex trafficking, and any form of sexual abuse, this is a BIG DEAL, a true moment to pause and celebrate. For every predator who seeks to profit from the sale of women and children's most traumatic experiences, this is a moment to fear.
Sex trafficking, rape, child sexual abuse, revenge porn (aka terrorism against women), and all non-consensual pornographic content will no longer be tolerated as a masturbation product to be sold to Pornhub's 42 billion yearly visitors.
There is something about these one million signers that is especially potent. These aren't signers from just a niche group in a specific geographic region. These signers are GLOBAL and DIVERSE. This petition has been signed by people from at least 192 countries. There are only 195 countries in the world.
These signatures also represent people from all walks of life—progressive, conservative, religious, atheist, old, young, male, female, those who "love porn" and those who fight it—all are united in this battle against blatantly broadcast injustice. Even current performers in the adult industry have begun lending their support to this fight against Pornhub, and rising up to revolt in their own unique ways, such as through a manifesto and a petition they created for those in the industry.
This petition has been signed by people from at least 192 countries. There are only 195 countries in the world.
The thing that's so significant about the diversity represented in this movement is it proves this campaign has universal appeal. Because, predators aside, virtually everyone can agree that no company should be able to profit off videos of women and children being raped and trafficked.
The journey to one million signatures has taught us something else. This isn't about getting signatures just for the sake of getting signatures. As the number of signers has grown, so has media exposure. To date, over 250 articles have been written about this campaign in 35 countries. Over the last few months, despite the news cycle being consumed with stories surrounding COVID-19, this Traffickinghub campaign has continued to gain visibility.
And perhaps most importantly, it has gained the attention of lawmakers and government officials. Just one day after a large protest in front of Pornhub/MindGeek headquarters in Montreal, Canada, a multi-party group of Canadian legislators sent a letter to Prime Minister Justin Trudeau asking that the government of Canada prevent Pornhub from distributing illegal content. A day later, US Senator Ben Sasse penned a letter to the Department of Justice, calling for an investigation into Pornhub.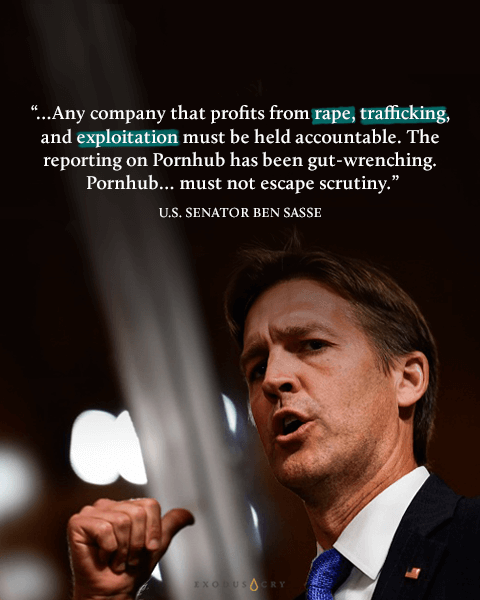 And while we have more to share which we can't disclose at this moment, suffice to say we've had high profile changemakers take an interest in this movement to shut down Pornhub.
Now, with 300 child protection, anti-trafficking, and women's rights organizations officially endorsing this fight, together we are stronger than ever.
And it's crucial that every signer understand this: your signature means something significant and does something powerful. It's not just a name on a page. These milestones we've reached and the collective momentum we've gained now pose an existential threat to Pornhub. Every new signature increases the mounting pressure for the world's largest porn site to be brought to accountability.
The universality of this campaign proves that this is only the beginning of the impact we will make together. We now know that people everywhere care deeply that trafficking victims are being used to turn a profit by Big Porn—now we just need to keep reaching more people with this crucial message.
Pornhub is a Goliath. They get 115 million site visitors PER DAY. So to continue in strength, we need resources to match the level at which we're fighting. Will you help strengthen the fight by giving to the Traffickinghub campaign? Any amount truly makes a difference.
Here are two ways you can propel this fight forward:
1. One of the greatest ways you can make an impact is by joining Exodus Cry's dedicated community of Premium Partners who are giving $10/month, or more, to sustain this long fight till Pornhub is brought to justice. Will you join Exodus Cry? Start here.
2. Ask your friends to sign the petition. The more signers we get, the greater the social and legal pressure will be for Pornhub to be held accountable.
How will your support make an impact? Here are three specific ways.
Unleash an Awareness Blitz
We're exposing the truth about Pornhub—on a global scale—through prominent billboards, original artwork, piercing social media, revealing articles and videos, and an in-depth documentary film about the world's largest porn site.
Demand Justice
We're calling for swift legal action, with maximum penalties to the full extent of the law, against the many criminal acts being broadcast on Pornhub.
Support and Spotlight Survivors
We're amplifying the voices of the courageous survivors of trauma and abuse from Pornhub, as they inspire and lead our campaign in public and legal spheres, to see that they receive the justice they deserve.
In just four months, we've come so far together! Let's boldly stand against this mass exploitation and keep the pressure on until justice is served.