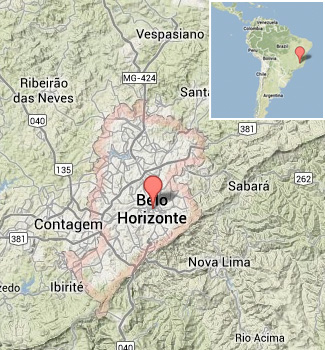 Belo Horizonte, translated 'beautiful horizon', is the sixth most populous city in Brazil and is seen as a symbol of Brazil's impressive landscape and booming economy.1 Belo Horizonte, or 'Beagá', has also been chosen, by the United Nations, as the city with the best quality of life in Latin America. 2
Today, this city has become a major hub for international and domestic service companies like Google, Orkut, Fiat and Oi. Prominent men and women from all around the world are brought to Belo Horizonte for business each year. And it is no coincidence that right next to its thriving business district lays Rua Guaicurus, the central red-light district in Beagá. According to the Association of Prostitution in Minas Gerais, the city has 80,000 prostituted persons in a conglomeration of buildings and love motels that intertwine to form a labyrinth of brothels.3 It has been said that women in Rua Guaicurus have up to twenty customers a day purchasing sex for $10 to $25.4
Last year Exodus Cry's Director of Intervention, Blaire Pilkington, partnered with Youth With A Mission to reach out to those being prostituted in Rua Guaicurus. She describes the brothels as "dirty little closet-sized rooms where girls stand in the doorway [fully nude or barely dressed] with the drone of a red light behind them as the men peruse the hallways."5
In addition to drawing in global businesses, Beagá also attracts international futbol (soccer) fans, as it is home to one of the biggest futbol stadiums in the world, the Mineirão. During the 2014 World Cup, Belo Horizonte will host six games and is expected to receive swarms of spectators that will not only come to support their teams but will also indulge in their sexual fantasies.
In Belo, it is a widely acknowledged reality that the World Cup activity will magnetize sex tourism and trafficking. The Association of Prostitution recently made headlines when they publicly announced that they would prepare for this influx of visitors by offering free English classes to prostituted persons in Belo Horizonte.6 The association's president, Cida Vieira, says that it's important for those in prostitution to be able to communicate with clients. Vieira said. "They'll have to learn how to work out financial deals and also use a specialized vocabulary with sensual words and fetishes." 7
The sex trade of Belo is being championed as a lucrative and important business for the city, shrouding its underground network of abuse in bogus justification. Women and children who are offering sexual services in Belo's streets are suffering the consequences of a longstanding cultural acceptance for the sex trade. As we witness the degradation of women and children being brought to new heights, a renewed vision of national worth and destiny must be recast in Belo Horizonte.
Click here to view a more extensive resource on the crisis of sex trafficking in Brazil.
---

1. "Belo Horizonte," IBGE Census, 2010 http://www.ibge.gov.br/cidadesat/xtras/perfil.php?codmun=310620&search=Minas%20Gerais|Belo%20Horizonte
2. "More about Belo Horizonte," Population Crisis Committee of the United Nations, 2013. http://www.belohorizonte.mg.gov.br/visit/en/
3. "Brazil prostitutes learn English for World Cup," New Horizon for News, 8 May 2013,  http://english.sina.com/world/p/2013/0507/588695.html
Kim Piston, "Brazilian Prostitutes Prepare For World Cup 2014," Huffington Post, 18 June 2013, http://www.huffingtonpost.com/2013/06/18/brazil-prostitutes-world-cup_n_3461664.html
Javier Tovar, "Brazil prostitutes learn English for football fans," News Daily, 03 May 2013, http://www.newsdaily.com/article/b88e69743bcc795c4aaccddccb84b66a/brazil-prostitutes-learn-english-for-football-fans
"Prostitutes to learn English for World Cup," Brisbane Times, 10 January 2013, http://www.brisbanetimes.com.au/queensland/prostitutes-to-learn-english-for-world-cup-20130110-2chre.html
4. "Brazil prostitutes learn English for World Cup," New Horizon for News, 8 May 2013 http://english.sina.com/world/p/2013/0507/588695.html
5. Blaire Pilkington (Director of Intervention) in discussion with the author, July 2013.
6. Shasta Darlington, "Ahead of Brazil World Cup, Free English classes Planned for Prostitutes," CNN, 9 January 2013,  http://www.cnn.com/2013/01/08/world/americas/brazil-prostitutes-english-classes
Christina Lopez, "Brazilian Prostitutes Seek English Teachers Before World Cup," ABC News, 9 January 2013, http://abcnews.go.com/blogs/headlines/2013/01/brazilian-prostitutes-seek-english-teachers-before-world-cup/
Kim Piston, "Brazilian Prostitutes Prepare For World Cup 2014," Huffington Post, 18 June 2013, http://www.huffingtonpost.com/2013/06/18/brazil-prostitutes-world-cup_n_3461664.html
7. Kim Piston, "Brazilian Prostitutes Prepare For World Cup 2014," Huffington Post, 18 June 2013, http://www.huffingtonpost.com/2013/06/18/brazil-prostitutes-world-cup_n_3461664.html
Shasta Darlington, "Ahead of Brazil World Cup, Free English classes Planned for Prostitutes," CNN, 9 January 2013,  http://www.cnn.com/2013/01/08/world/americas/brazil-prostitutes-english-classes