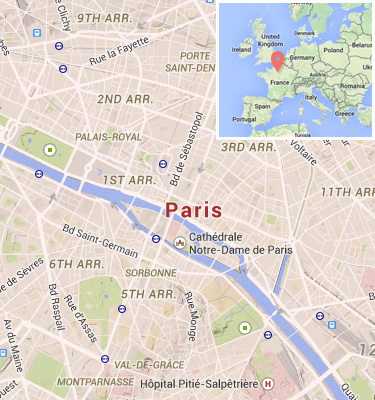 In the classic novel Les Misérables, first published in 1862, Victor Hugo's depiction of Fantine offers a sympathetic portrayal of the plight of an impoverished, prostituted woman living in Paris, France in the early 1800s. In order to provide for her child, Fantine is forced to sell a prized locket, her hair, her teeth, and ultimately, her body. During her time in prostitution, Fantine contracts a fatal disease. After her death, her body is unceremoniously thrown into a public grave.
Hugo's compelling depiction of Fantine's life illustrates the author's compassion for women who, as victims of poverty and societal constraints, fell prey to the ravages of prostitution. Historically, Hugo was one of the first public figures to openly connect the issues of prostitution and slavery. He said, "We say that slavery has vanished from European civilization, but this is not true. Slavery still exists, but now it applies only to women, and its name is prostitution."
Today, the US Department of State, the government of France, and nongovernmental organizations (NGOs) that monitor human rights issues estimate that there are 20,000–40,000 people trapped in France's commercial sex trade. Approximately 90 percent of these are victims of human trafficking. Most of those being prostituted are foreigners from Nigeria, Romania, China, Brazil, and Bulgaria. Reports have also shown that a significant number of children are being exploited in France's sex trade. NGOs report that approximately 5,000 children, primarily from Romania, West Africa, and North Africa, are victims of forced prostitution.
1 Networks of traffickers use debt bondage, physical force, and psychological and spiritual coercion, including the invocation of voodoo or juju to lure their victims.
The number of Nigerian women being trafficked into Paris and other parts of France and Europe has increased in recent years. The use of juju—a form of witchcraft or black magic that is highly regarded by many West Africans—plays a critical role in the exploitation of these women. The majority of Nigerians who are trafficked via spiritual coercion come from the region of Edo, Nigeria. These women are recruited by traffickers who usually know their families. The recruiter promises riches and a glamourous life, and soon, these girls are tricked into beginning a journey to Europe. Before the grueling trek begins, the women are forced to participate in a juju ceremony in which a priest collects the nails, hair, and menstrual blood of the victims and places them in a pouch before a shrine. Each woman is forced to swear an oath that she will repay all the debts incurred by her transport and expenses while abroad, that she will never run away, and that she will never go to the police or give away the identity of her madams and traffickers. If a woman breaks any of these oaths, she is told that spirits will bring serious punishment, even death, to the woman and her family. Siddarth Kara, an expert on sex trafficking, said that these rituals "create a powerful hold on the victim, so much so that almost no Nigerian trafficking victims ever attempt to escape sex slavery."2 Sadly, the debts increase as the women are charged exorbitant amounts for the basic necessities of life. These debts make it nearly impossible to ever gain freedom. Even when rescued, these women refuse to talk about their exploitation or to testify against traffickers because of the intense fears provoked by juju rites.
In addition to the numbers of women being trafficked from other countries, a recent financial crisis in France could likely result in an increase in the number of French women being trafficked domestically. Currently, there are two primary red light districts in addition to many other escort services and informal locations that serve as brothels around the city. Of these two districts, the more "upscale" Pigalle—also known as Montmartre—is famous for tourism and the area's numerous sex shops. The neighborhood's reputation, along with mispronunciation by Allied soldiers during World War II, has led to its nickname of Pig Alley.3 The Divan du Monde and the famous Moulin Rouge are both located in Pigalle. The second red light district is a large public park known as Bois de Boulogne. Sex acts in Boulogne take place inside of vans or outdoors on soiled mattresses, sidewalks, and roadsides.
Prostitution has long been at the center of public debate in Paris and other parts of France. In 1254, King Louis IX attempted to rid the nation of prostitution. He blamed the existence of prostitution on those being exploited and ordered that all prostituted women and their belongings be expelled from the country.4 Between 1350 and 1450 many cities throughout Europe, including Paris, began institutionalizing prostitution by building municipal brothels.5 In 1560, Charles IX prohibited maintaining brothels in Paris.6 Later, the French Revolution brought into question Charles' ordinance on prostitution, and revolutionaries commissioned the Bureau des Moers of Paris to oversee the issue. The Bureau adopted a stance of tolerance regarding solicitation and a liberal position on brothels.7 The buying and selling of sex became socially acceptable once again. Under the rule of Napoleon, prostitution was normalized to the point that prostituted women, known as "filles de joie" or "girls of pleasure," would publicly roam the Palais Royale with the men who were purchasing their bodies. By 1840, it is reported that there were about 200 brothels in Paris, many of which were featured in late 19th-century paintings by famed artists Edgar Degas and Henri de Toulouse-Lautrec.8
In 1946, the post-war government in France outlawed brothels but maintained the legality of buying and selling sex, thus creating a system of legalized prostitution throughout France which still exists today. Despite brothels technically being outlawed, sex is still sold in massage parlours, sex clubs, informal brothels, and on the streets. As a result, the sex industry has flourished. Sex clubs have become so popular that one commentator on the issue said that visiting sex clubs in Paris has "become a leisure activity, like going to the theatre or the cinema."9 Fortunately, there are signs that change is near.
In the last few years, there has been a powerful shift in French attitudes about prostitution. Most significantly, people are beginning to understand the intricate link between prostitution, sex trafficking, exploitation, and violence against women. This change in attitudes was demonstrated in the French National Assembly in Paris when France's former minister for women's rights, Najat Vallaud-Belkacem, spearheaded a bill that would criminalize the purchase of sex throughout France. The bill was an effort to reduce demand and its passage would have sent a strong message that women's bodies should not be commodities. Vallaud-Belkacem has passionately declared that sex trafficking "would not exist, if at the other end of the chain there were not someone who'd accept it and pay for it."10 The bill gained widespread support by members of Parliament and was passed by the French government's Lower House in December of 2013. In the summer of 2014 the French Senate began their review of the legislation. Unfortunately, the bill met with opposition from the certain members of the Senate. Pascale Boistard, France's state secretary for women's rights, recently protested the Senate's move to block the bill. Boistard said, "[t]he Senate must re-visit this law. A large majority of the French are in favour." Advocates of the legislation are hoping that the Senate will re-examine the bill early in 2015.
Please pray:
For those trapped in sexual slavery in Paris to be freed, particularly the many Nigerian women who are being coerced with a form of spiritual exploitation. Pray that the Lord of the Harvest will shine the light of the gospel and free these women from their chains of spiritual and physical captivity.
For revival in the red light districts of Pigalle and Bois de Boulogne.
For the perseverance of those advocating to criminalize the purchase of sex, specifically champions such as Najat Vallaud-Belkacem and Pascale Boistard. Also pray that the eyes of the French senators who are opposed to the bill will be opened and for the French Senate to reconsider and pass the legislation in 2015.
Footnotes
1. US Department of State Trafficking in Persons Report 2014, http://www.state.gov/j/tip/rls/tiprpt/countries/2014/226724.htm
2. Kara, Siddarth. 2009. Sex Trafficking: Inside the Business of Modern Slavery. Columbia University Press.
3. Steves, R., Smith, S., & Openshaw, G. 2014. Rick Steves' Paris 2015. Avalon Travel.
4. Rossiaud, J. 1988. Medieval Prostitution (p. 12). Oxford, England: Blackwell.
5. Ringdal, N. J. 2005. Love for Sale: A World History of Prostitution. Grove Press.
6. Sanger, W. W. 1897. The History of Prostitution: Its Extent, Causes and Effects Throughout the World. Medical Publishing Company.
7. Luker, K. 1998. "Sex, Social Hygiene, and the State: The Double-Edged Sword of Social Reform." Theory and Society, 27(5), 601-634.
8. "On the Game: A New Government Wants to Abolish the Oldest Profession." The Economist. July 14, 2012. http://www.economist.com/node/21558612
9. Fawcett, Karen. "Pairs Sex Clubs: They're Everywhere." Bonjour Paris. Accessed December 2014. http://www.bonjourparis.com/story/paris-sex-clubs-theyre-everywhere/
10. Dickey, Christopher. 2013. France's New Prostitution Law Targets Johns: Ignites National Debate." Libertines and Liberties, December 5. http://www.thedailybeast.com/articles/2013/12/05/france-s-new-prostitution-law-targets-johns-ignites-national-debate.html