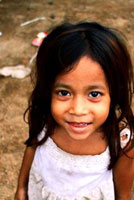 PRAYER BRIEFING
Svay Pak is a four-acre village located approximately 10 miles outside of Phnom Phen, Cambodia. It is a place notorious for child prostitution, attracting pedophiles from around the world. The above picture is of one of the many children in this village vulnerable to sexual exploitation. Virtually the entire town is over-run with a spirit of perversion: parents are complicit in the sell of their children, and the corrupt police force offers little to no resistance to pimps and brothel owners. In Svay Pak, sex is the economy, and children are the commodity.
MINISITRY OUTREACH
Rahab's House has purchased a brothel in Svay Pak and has turned it into a center for ministry. They perform outreaches to the children several times per week.
Exodus Cry is currently seeking to establish a day-and-night prayer furnace in Svay Pak in partnership with Rahab's House.
PRAYER POINTS
We are asking God for wholesale transformation in Svay Pak.
Pray that the strongholds of spiritual perversion and greed over this village would be broken.
Pray that the hearts of the parents would be turned towards their children.
Pray for deliverance, salvation, and restoration for the children.
Pray for the gospel to go forth with power.
Pray that God would anoint the efforts of Rahab's House and Exodus Cry to end child prostitution here.
Pray that God would raise up a righteous police force in Cambodia.
From the Prayer Room:
Prayer for the city of Svay Pak, Cambodia from the Prayer Room.